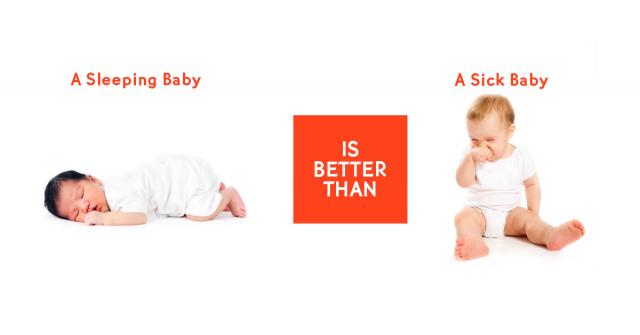 So you're a new parent and your baby feels warm. The baby has been fussy all day. Now you're wondering what to do. You don't want to be the parent who calls the doctor at every squeak or squeal, but you definitely don't want to wait too long to seek help and endanger your child's health.
First, take a deep breath. It's okay. Every parent goes through similar waves of panic and worry. These pangs of fear are what make the good moments so great. It all comes with the job.
Second, we can help. FastMed wants to give you a simple way to understand when your baby needs to see a healthcare provider so you can pretend that poop face was a smile.
 What is a fever?
A fever is anything over 100.4 degrees Fahrenheit. That's the magic number you need to know. Normal kids will stay between 97 degrees and 100.3. If your baby goes above 100.4, call your doctor.
How do you take your baby's temperature?
Rectally. You need to take your baby's temperature with a rectal thermometer. You can try to take the temperature in their mouth or under an arm but you know how your baby squirms. Heck, you can hardly get a diaper on. So get a good temperature where you can.
What if the temperature is under 100.4 degrees?
Keep an eye on your baby and trust your intuition. Part of being a parent is making judgment calls. You can tell when your baby is a bundle of joy and when he or she is more agitated or, equally concerning, much more subdued than usual.
For the frist few weeks of life, a baby can't regulate his own temperature and largely relies on you to help regulate his internal temperature. Yes, the tiny faux fur coat you got for her as a shower gift is cute. Yes, you need to get a picture of him wearing a full baseball uniform before he outgrows it. But your baby may need to cool off. (Not cold off, either! Babies are complicated little humans. They'll holler if you let them get cold).
Who should you call?
If your baby is running a fever, you want to speak your pediatrician is not available,FastMed is open evenings and weekends and some of our locations are also open on holidays. You should look up your local FastMed and see what the hours of operation are, then put a note with the phone number on the fridge in case you need it.
You're going to be okay as parent
If you are googling symptoms, you're a concerned parent like all the rest.. One day you will sleep again. Your baby will smile and giggle and all these late nights taking temperatures will fade into the collective awesomeness of being a parent. In the meantime, as you need help, reach out to FastMed with questions or concerns. We can get you in and out quickly, so you can get back to the stuff that matters — Like that almost-wave, that grin or potty and all the wonderful others.