One day you're fine, and the next day you wake up with a cough and sore throat. We've all been there, and it isn't fun. Cough and sore throat are common symptoms for a number of illnesses, so it's not always easy to tell what kind of illness you are suffering from based solely on your symptoms. There are many reasons you might have a cough and sore throat, such as allergies, viruses, and bacterial infections.
Possible Causes of a Cough and Sore Throat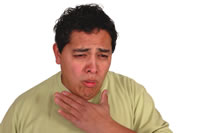 Some common conditions that are characterized by a cough and sore throat include:
The common cold: A viral infection that can cause a runny nose, sore throat, sneezing, and coughing.
Influenza: A contagious respiratory illness characterized by fever, cough, sore throat, runny nose, and muscle aches.
Laryngitis: An inflammation of your voice box. Symptoms can include hoarseness, voice loss, sore throat, and dry cough.
Bronchitis: An inflammation of your bronchial tube lining. Besides cough and sore throat, symptoms can include production of mucus, fatigue, chest discomfort, shortness of breath, and chills.
Acute sinusitis: A condition in which your sinuses become inflamed and swollen. Other than a cough and sore throat, acute sinusitis may cause difficulty breathing, headache, pain around your eyes, cheeks, nose, or forehead, and yellow or greenish discharge from the nose.
Allergies: A reaction to a foreign substance that can make you sick or cause infection. Other symptoms of allergies include, sneezing, itching, watery or swollen eyes, and a runny, stuffy nose.
If your cough and sore throat lasts for more than two days, it is a good idea to visit a FastMed near you and see one of our medical professionals. It is easy to write off a cough and sore throat as something that will go away on its own, but it could be caused by something more serious like strep throat or an upper respiratory infection. Depending on the cause of your cough and sore throat, over-the-counter medications could alleviate your symptoms, or you may need medication prescribed by a professional on our staff. They will be able to determine the cause of your symptoms and recommend an appropriate treatment plan.
About FastMed
FastMed Urgent Care owns and operates nearly 200 centers in North Carolina, Arizona and Texas that provide a broad range of acute/episodic and preventive healthcare services 365 days a year. FastMed also provides workers' compensation and other occupational health services at all its centers, and family and sports medicine services at select locations. FastMed has successfully treated more than six million patients and is the only independent urgent care operator in North Carolina, Arizona and Texas to be awarded The Joint Commission's Gold Seal of Approval® for quality, safety and infection control in ambulatory healthcare. For more information about locations, services, hours of operation, insurance and prices, visit www.fastmed.com.