5 Ways to Care for Croup
Croup is a type of respiratory infection that most commonly affects children. The infection usually presents in the form of a nasty-sounding cough, which is often referred to as a barking cough. Inflammation from the infection affects the windpipe, vocal cords, and bronchial tubes. Air is then forced to move through a more narrow space, and the result is a persistent, barking cough and sometimes a hoarse, raspy voice.
The cause of croup is the same as the cause of a cold: a virus. The virus, just like with a cold, is contagious. Knowing a little bit more about how to care for croup and when to seek medical attention may make it easier to manage.
Managing and Treating Croup Symptoms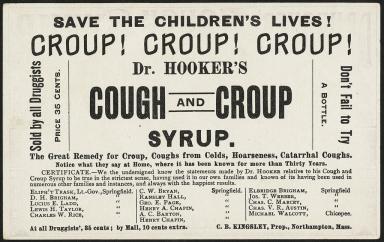 Since Dr. Hooker's Cough and Croup Syrup is no longer a household name, home care is important when dealing with croup.
Once you get a diagnosis from a medical professional and rule out other types of infections and medical issues, there are a few things you can do to make the symptoms of croup more manageable.
These include:
Bed rest
Drinking lots of fluids
Using a cool-mist humidifier
Sitting upright
Monitoring a child overnight
Monitoring a child who has croup overnight is very important to ensure breathing is not interrupted. If breathing or swallowing becomes difficult, seek medical help right away.
While home care is helpful for croup, a medical professional can offer specific recommendations and provide a prescription when necessary as well as ensure that the symptoms are not severe.
FastMed to the Rescue
At FastMed Urgent Care, we can provide a thorough medical examination to diagnose croup and offer effective treatment options. We can also provide additional testing or X-rays to make sure a different type of infection or medical disorder is not causing the symptoms. If treatment from a specialist is needed, we'll provide a referral, schedule the appointment, and forward all test results, X-rays, and other digital medical records.
Find your local FastMed Urgent Care using our online locator tool, and get answers to common questions about visiting a FastMed walk-in clinic through our FAQs page.
About FastMed
FastMed Urgent Care owns and operates nearly 200 centers in North Carolina, Arizona and Texas that provide a broad range of acute/episodic and preventive healthcare services 365 days a year. FastMed also provides workers' compensation and other occupational health services at all its centers, and family and sports medicine services at select locations. FastMed has successfully treated more than six million patients and is the only independent urgent care operator in North Carolina, Arizona and Texas to be awarded The Joint Commission's Gold Seal of Approval® for quality, safety and infection control in ambulatory healthcare. For more information about locations, services, hours of operation, insurance and prices, visit www.fastmed.com.