"What is that feeling when you're driving away from people, and they recede on the plain till you see their specks dispersing? ‒‒ it's the too-huge world vaulting us, and it's good-bye. But we lean forward to the next crazy venture beneath the skies."
– Jack Kerouac, On the Road
How exhilarating to live a life on the road! The rolling hills, the cotton candy sunsets, the wind that blows through your hair and whispers: this is freedom!
For commercial truck drivers, though, a life on the road takes a lot of training, dedication, and commitment. For instance, did you know that commercial truck drivers are required to pass a Department of Transportation (DOT) physical every 2 years to keep their license?
FastMed Urgent Care knows that it can be difficult for commercial truck drivers to make appointments and stick to them, especially while they are on the road. That is why FastMed offers DOT physicals every day of the year with no appointment required.
What Can You Expect from Your DOT Physical?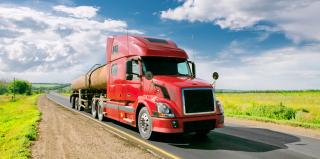 The Department of Transportation requires all commercial motor vehicle (CMV) drivers to pass a DOT physical before obtaining or renewing their commercial driver's license. The point of the DOT physical is to determine if the driver has any physical or mental issues that could hinder them from safely operating a CMV.
During a DOT physical, you will most likely be evaluated on the following:
Vision and hearing
Blood pressure and pulse
Blood sugar
Drug and alcohol levels
Medical history
Who can perform a DOT physical?
DOT physicals should be performed by an FMCSA certified medical examiner. To be certified, a medical examiner should be recognized by the National Registry of Certified Medical Examiners and should complete routine training every 5 years.
If you need a DOT physical, FastMed is trained and certified in FMCSA standards and offers exams as low as $85! Check out this brochure to learn more!
About FastMed
FastMed Urgent Care owns and operates nearly 200 centers in North Carolina, Arizona and Texas that provide a broad range of acute/episodic and preventive healthcare services 365 days a year. FastMed also provides workers' compensation and other occupational health services at all its centers, and family and sports medicine services at select locations. FastMed has successfully treated more than six million patients and is the only independent urgent care operator in North Carolina, Arizona and Texas to be awarded The Joint Commission's Gold Seal of Approval® for quality, safety and infection control in ambulatory healthcare. For more information about locations, services, hours of operation, insurance and prices, visit www.fastmed.com.