Where are Drug Screening Locations In NC?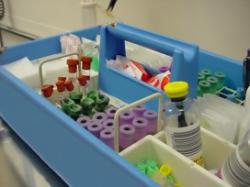 A pre-employment drug screening has become standard operating procedure for new hires. Ideally drug screening locations should be convenient, affordable and fast. astMed Urgent Care is currently the sixth largest urgent care network in the US, and the largest urgent care network in North Carolina. FastMed drug screening locations are located all across North Carolina – use your zipcode to find the pre-employment drug screening location nearest to you and all have on site laboratories. That's particularly important if you're looking for drug screening locations. Drug test results are fast – no down time shipping samples to an outside vendor, and no additional cost.
FastMed accepts most major insurance plans, including Tricare, in support of the service of our military families in North Carolina. F
Drug Screening Locations for Employers in NC
Although the federal government requires drug testing in some safety-sensitive industries (including transportation, aviation, and contractors with NASA and the Department of Defense), for the most part, state and local laws determine whether an employer may require drug testing.
NC Employment Drug Screening Laws:
Employers have the right to require an employee drug test and/or pre-employment drug screening
Drug tests must be performed under reasonable and sanitary conditions to respect the privacy and dignity of the individual.
In the event of a positive drug test, employees have the right to retest at the same lab or at another approved lab of their choice.
In addition to providing drug screening locations, FastMed Urgent Care provides a suite of occupational health services:
Physical exams
Audiometer testing, DOT services & physical exams
DOT Recertification
Drug testing/Alcohol screening
Pulmonary function testing
X-ray testing (especially for spine and lumbar)
Workers' Compensation
Injury Care
FastMed is easy to work with – all our health records are digitized, digital X-rays are taken on site and of course we have in-house labs for drug testing. The drug screening locations at FastMed Urgent Care are walk-in medical clinics, open 365 days a year. Please check our occupational health services if you'd more information about setting up an account with FastMed.
About FastMed
FastMed Urgent Care owns and operates nearly 200 centers in North Carolina, Arizona and Texas that provide a broad range of acute/episodic and preventive healthcare services 365 days a year. FastMed also provides workers' compensation and other occupational health services at all its centers, and family and sports medicine services at select locations. FastMed has successfully treated more than six million patients and is the only independent urgent care operator in North Carolina, Arizona and Texas to be awarded The Joint Commission's Gold Seal of Approval® for quality, safety and infection control in ambulatory healthcare. For more information about locations, services, hours of operation, insurance and prices, visit www.fastmed.com.