FastMed Flu Shot Clinics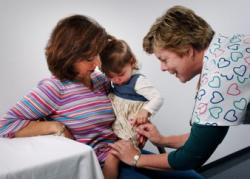 If you want to get a flu shot, don't settle for flu shot clinics in the aisle of a store. Come to FastMed flu shot clinics in North Carolina and Arizona. It's a clean medical environment, and our staff is happy to answer any questions you might have. Every FastMed flu shot clinic is open 365 days per year and operates under extended hours. That means we're open earlier in the morning and later in the day. Taking of care of your health shouldn't have to mean missing work or school.
Why should I get a flu shot?
Every year in the United States, 5 to 20% of the population gets the flu. An average of 226,000 people are hospitalized for flu-related complications. The CDC recommends everyone over 6 months of age get a flu shot. FastMed flu shot clinics offer a flu vaccine for people between 18 and 65 year of age. You can also get a pediatric flu vaccine for your child.
Do I need an appointment at FastMed flu shot clinics?
No. You don't ever need an appointment at FastMed. Walk-ins are always welcome every day of the year, including holidays. If this is your first visit, print and fill out the preregistration form at your convenience. All of our health records are electronic, so you're set when we register you the first time.
Should my kids got to a FastMed flu shot clinic?
Most definitely. Did you know that each year an average of 20,000 children younger than 5 years old are hospitalized because of flu complications. In fact, severe flu complications are most common in children under two years of age. As you may surmise, children are at considerable risk for the flu. Please get to a FastMed flu shot clinic early in the flu season to protect your family.
Isn't it cheaper to go to flu shot clinic in a store?
No. FastMed flu shot clinics offer vaccines at comparable prices. Plus, you get the privacy and professionalism of a medical atmosphere that fosters compassion.
More Articles: Low Cost Urgent Care | Walk in Clinic | The Flu | Clinics | Flu Symptoms in Adults
About FastMed
FastMed Urgent Care owns and operates nearly 200 centers in North Carolina, Arizona and Texas that provide a broad range of acute/episodic and preventive healthcare services 365 days a year. FastMed also provides workers' compensation and other occupational health services at all its centers, and family and sports medicine services at select locations. FastMed has successfully treated more than six million patients and is the only independent urgent care operator in North Carolina, Arizona and Texas to be awarded The Joint Commission's Gold Seal of Approval® for quality, safety and infection control in ambulatory healthcare. For more information about locations, services, hours of operation, insurance and prices, visit www.fastmed.com.