What are Flu Symptoms in Adults?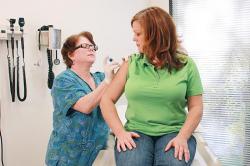 Though seasonal flu (influenza) symptoms in adults can look like a common cold, if you have a high fever, chances are good you have the flu. Seasonal flu – or flu season – normally starts in the fall and ends in the spring. An outbreak often begins when children head back to school and the virus is easily spread. Flu symptoms in adults are similar to flu symptoms in children, except that young children may also experience stomach pain, nausea and vomiting, not the norm for adult flu sufferers.
Flu symptoms in adults include:
Fever
Severe aches and pains
Dry cough and sore throat
Overall weakness and fatigue
Warm, flushed skin and watery eyes
Headache
Flu symptoms in adults are highly contagious and in certain populations can be very dangerous. Individuals at higher risk for common flu-related complications, such as pneumonia, include people over 50, anyone with heart or lung disease, pregnant women and people with compromised immune systems.
What to Do About the Flu?
Get your flu shot:
Get your flu shot at the FastMed Urgent Care nearest you. No appointment necessary, we're open 365 days a year. Getting your Flu shot at FastMed is easy. There are two methods for getting the flu vaccine: traditional injection and nasal-spray vaccine. Traditional flu shots inject an inactivated vaccine (containing killed virus) while the nasal spray vaccine is made with live, weakened flu viruses. Flu shots protect you from the current year's influenza strain but also protects against more viral strains, such as Swine flu or H1N1.
Get to the doctor:
Flu symptoms in adults come on very quickly. There are antiviral drugs – not antibiotics – that can be prescribed to shorten the duration of the flu and reduce your symptoms but they work best when administered at the onset of the symptoms. If you fall ill, remember there's no appointment necessary, come as soon as possible for immediate flu treatment at FastMed Urgent Care.
Other related questions:
Sinus Infection Symptoms | Ear Infection Symptoms | What To Do When You Have An Earache And Sore Throat | Seasonal Allergy Symptoms | Symptoms Of A Urinary Tract Infection
About FastMed
FastMed Urgent Care owns and operates nearly 200 centers in North Carolina, Arizona and Texas that provide a broad range of acute/episodic and preventive healthcare services 365 days a year. FastMed also provides workers' compensation and other occupational health services at all its centers, and family and sports medicine services at select locations. FastMed has successfully treated more than six million patients and is the only independent urgent care operator in North Carolina, Arizona and Texas to be awarded The Joint Commission's Gold Seal of Approval® for quality, safety and infection control in ambulatory healthcare. For more information about locations, services, hours of operation, insurance and prices, visit www.fastmed.com.