What are Sinus Infection Symptoms?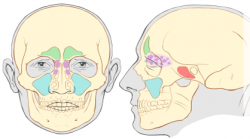 A sinus infection, also known as sinusitis, starts with the inflammation and swelling of the tissue in the sinuses. The main function of the sinus is to produce mucus that moisturizes the inside of the nose, but when they become blocked and filled with fluid bacteria and viruses can grow and cause infection.
Over 37 million Americans experience at least one episode of sinus infection symptoms a year. A cold, allergies, a deviated septum or nasal polyps can be the catalyst for sinus infection symptoms that run anywhere from 10 days to 2 weeks.
Sinuses are actually air pockets in the structure of the skull that are connected to the nasal cavity via small orifices called the ostium. When you get a cold or have bad allergy symptoms, the ostium are easily blocked by swelling or inflammation. The normal drainage of mucus from the sinuses is disrupted and an infection may develop. Acute sinusitis may be diagnosed if you have two or more symptoms and/or the presence of thick, green, or yellow nasal discharge. Sinus Infection or sinusitis symptoms are:
Facial pain and pressure
Stuffy nose and nasal discharge
Fatigue
Bad breath
Loss of smell
Cough/congestion
Headaches
Treating Sinus Infection Symptoms at FastMed
When you are experiencing sinus infection symptoms, it's recommended that you seek immediate care to begin treating the infection and minimize your discomfort. Sinus infections are painful and can keep you home from work or school. FastMed Urgent Care is open 365 days a year, with extended office hours, so you can get immediate care at the walk-in clinic closest to your home. The medical professionals at FastMed Urgent Care will evaluate the tenderness of the sinus cavities and review your medical history, particularly allergies and other respiratory illnesses. Depending on your condition, antibiotics, decongestants or antihistamines are normally prescribed.
FastMed Urgent Care is your neighborhood medical center. We accept most major insurance plans, including Tricare for military families to help families manage the cost of healthcare.
Other related questions:
What To Do When You Have An Earache And Sore Throat | Ear Infection Symptoms | Flu Symptoms In Adults | Seasonal Allergy Symptoms | Symptoms Of A Urinary Tract Infection
About FastMed
FastMed Urgent Care owns and operates nearly 200 centers in North Carolina, Arizona and Texas that provide a broad range of acute/episodic and preventive healthcare services 365 days a year. FastMed also provides workers' compensation and other occupational health services at all its centers, and family and sports medicine services at select locations. FastMed has successfully treated more than six million patients and is the only independent urgent care operator in North Carolina, Arizona and Texas to be awarded The Joint Commission's Gold Seal of Approval® for quality, safety and infection control in ambulatory healthcare. For more information about locations, services, hours of operation, insurance and prices, visit www.fastmed.com.