What are Ear Infection Symptoms?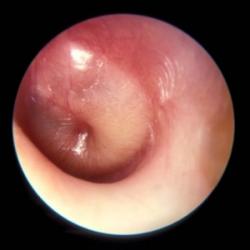 Ear infection symptoms are more likely to affect children than adults, though the cause of most ear infections is a build-up of fluids in the middle ear. Because many children who are too young to speak will experience ear infection symptoms, it is important for parents and caregivers to recognize non-verbal cues. Ear infection in infants normally require antibiotic medication and it's recommended you get your child to a doctor as soon as possible.
Ear Infection Symptoms in Children
Ear pain, especially lying down
Tugging or pulling at ear
Crying and fussiness beyond norm
Difficulty hearing and/loss of balance
Fever of 100 F
Headache 
Difficulty sleeping
Ear Infection Symptoms in Adults
Ear pain
Fluid draining from ear
Ear feels clogged – diminished hearing
If symptoms last longer than a day or fluid is draining from your ear – it's recommended you see a doctor.
Treatment for Ear Infection Symptoms at FastMed
Getting immediate care for ear infection symptoms will shorten the duration of pain and discomfort they cause. Find the FastMed location nearest to you and simply come by – we're a walk-in clinic. No appointment necessary, particularly important if you are dealing with a sick child. We accept most forms of insurance and are open 365 days a year.  The normal course of treatment is an examination of the middle ear using a pneumatic otoscope and a prescription for antibiotics if needed. Please remember, when taking medication it is very important to continue through the entire prescription – do not stop taking your antibiotics when you start to feel better.
Other related questions:
Sinus Infection Symptoms | What To Do When You Have An Earache And Sore Throat | Flu Symptoms In Adults | Seasonal Allergy Symptoms | Symptoms Of A Urinary Tract Infection