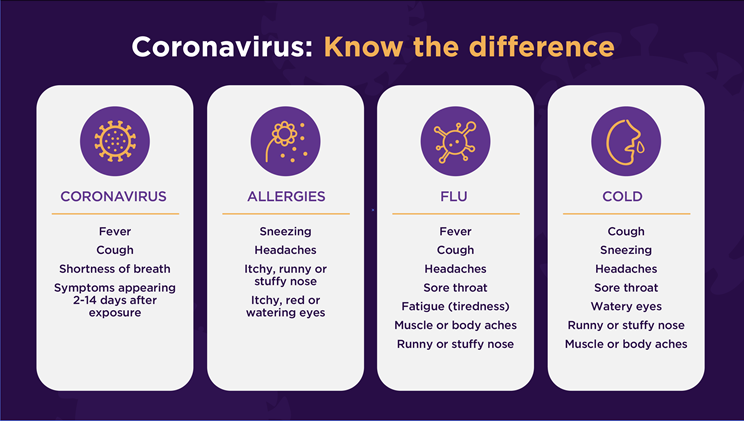 The COVID-19 pandemic is having an unprecedented effect on our daily lives, so we wanted to take a moment to answer some of the most common questions that our FastMed providers are getting from patients about how to protect themselves and their families.
What Are Common COVID-19 Symptoms?
Most individuals infected with the 2019 novel coronavirus develop symptoms two to 14 days following exposure. The type and severity of symptoms can vary from patient to patient. Some patients even remain asymptomatic or only feel as if they have a minor cold. The most common symptoms include a fever of 100.4°F or more, a cough, and shortness of breath. In some cases, the respiratory infection can become so severe that the individual may experience extreme difficulty breathing, persistent chest pain or pressure, and cyanosis characterized by a blue tint to the face and lips.
What Is the Difference Between COVID-19 vs. Flu?
Both COVID-19 and the seasonal flu are respiratory illnesses; however, they are caused by two completely different viruses. We currently have vaccines and antiviral medications to help prevent and treat the flu. Although various clinical trials are underway to develop vaccines and treatments to prevent and treat COVID-19, none of these have received final approval and are not available for widespread use at this time. This means that the treatment for COVID-19 centers on supportive care rather than a cure.
What Is the Difference Between COVID-19 vs. Allergies?
The primary difference between COVID-19 vs. allergies is the causative agent. Unlike COVID-19, which is caused by a virus, allergies occur when the body's immune system reacts to a substance that is normally harmless. Approximately 20% of Americans have allergies to pollen, pet dander, foods, or other substances. Allergy symptoms can vary in severity and in the way that they manifest. For example, some allergies may trigger respiratory symptoms while others may affect the skin or even the gastrointestinal system.
There also is a difference in the treatment approach between COVID-19 vs. allergies. As mentioned above, there currently is no specific treatment or cure for COVID-19. Allergy symptoms, on the other hand, can often be minimized with over-the-counter or prescription medications or injections designed to desensitize the body to the allergen.
How Can I Tell If My Symptoms Are Caused by Coronavirus vs. Allergies?
Seasonal or year-round allergies can cause respiratory symptoms similar to COVID-19, including a cough, fatigue, shortness of breath, and a runny or stuffy nose, which can make it difficult to distinguish between coronavirus vs. allergies. A primary difference between the two is that coronavirus infection is often accompanied by a fever. Allergies, on the other hand, do not normally cause fevers. Allergies usually involve watery, runny, itchy eyes, nasal congestion, and ear itching. These symptoms are also normally recurrent at certain times of the year or from certain environmental exposures, such as animals.
How Can I Tell If My Symptoms Are Caused by Coronavirus vs. Flu?
Because of the significant overlap in symptoms, it is much more difficult to distinguish between COVID-19 vs. flu. If you develop respiratory symptoms in conjunction with a fever, you should contact your healthcare provider to determine the appropriate course of action. The elderly and individuals with underlying health conditions are especially vulnerable to complications from both COVID-19 and the flu, so they should consult a healthcare provider as soon as possible after symptom onset.
What Should I Do If I Have Flu or COVID-19 Symptoms?
If your symptoms are relatively mild, call a healthcare provider to determine if they need to see you in person. If the symptoms are not life-threatening, you should not just show up at a healthcare clinic or emergency room since this could put others at risk. Above all, you should stay at home if you are ill. Try to isolate yourself as much as possible from other members of your household. If you must be around other people, you should wear a mask to reduce the risk of transmitting the virus to others.
Are There Different Treatments for Coronavirus vs. Flu?
If diagnosed early enough, antiviral medications may be used to decrease the severity and duration of flu symptoms. These medications are not effective against the 2019 novel coronavirus. It is important to remember that antibiotics are not effective against viral infections like the flu or COVID-19.
Do You Offer Tests to Distinguish Between COVID-19 vs. Flu?
FastMed does offer rapid screening tests for the flu; however, we do not currently offer tests for COVID-19 at this time. Of course, we can always refer you for appropriate testing if one of our providers determines that you have symptoms and risk factors consistent with COVID-19.
How Can I Prevent COVID-19?
The best way to protect yourself and others is to practice social distancing by avoiding close contact with others and washing your hands often. You should also follow the recommendations of federal, state, and local authorities as the situation evolves.
FastMed is committed to ensuring the health and well-being of our patients and staff. For this reason, let's work together to minimize your time in our lobbies for the safety of all patients. Please check in online and e-register prior to visiting, and choose to receive a text when we're ready for you to come into the clinic. Also, please do not bring any additional friends or family members with you to your visit unless necessary. Continuing to provide high quality, compassionate care for you and your loved ones is our number one priority.
About FastMed
FastMed Urgent Care owns and operates nearly 200 centers in North Carolina, Arizona and Texas that provide a broad range of acute/episodic and preventive healthcare services 365 days a year. FastMed also provides workers' compensation and other occupational health services at all its centers, and family and sports medicine services at select locations. FastMed has successfully treated more than six million patients and is the only independent urgent care operator in North Carolina, Arizona and Texas to be awarded The Joint Commission's Gold Seal of Approval® for quality, safety and infection control in ambulatory healthcare. For more information about locations, services, hours of operation, insurance and prices, visit www.fastmed.com.