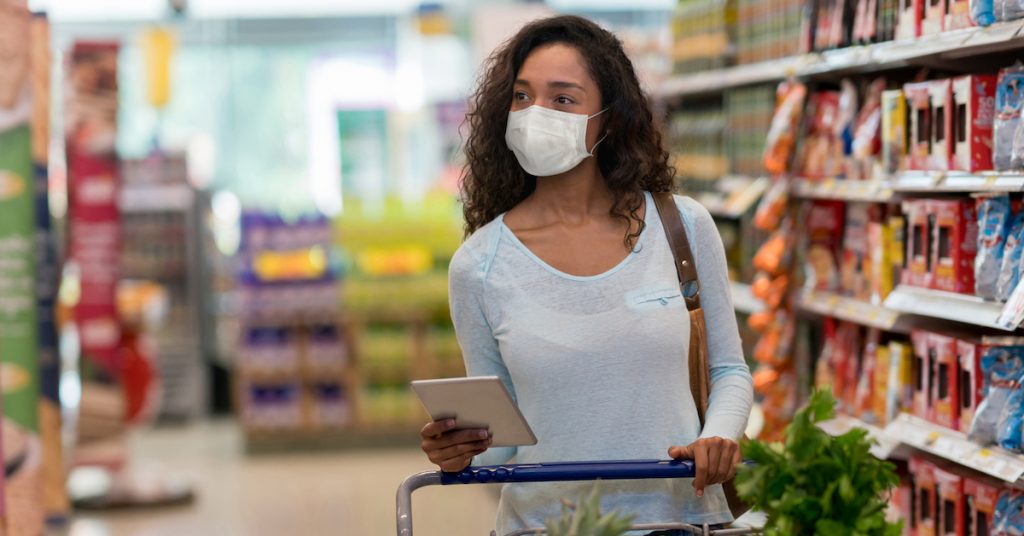 Sometimes it's impossible to avoid going out during the pandemic. To keep you safe, we've put together a list of do's and don't's to cover a variety of situations surrounding COVID-19 and shopping.
What COVID-19 Essential Shopping Rules Should You Follow?
Stay home whenever possible and never go out when you are feeling sick. Use online ordering, delivery subscriptions and curbside pick-up to avoid the risks associated with COVID-19 and shopping.
If you must shop in-store, practice the following COVID-19 essential shopping rules:
Rather than making frequent trips, consolidate your errands into a single outing and shop quickly and efficiently. Ideally, you should shop no more than once every week to two weeks.
Go when fewer people are shopping, typically early or late in the day. Leave other family members at home. By designating just one family member to shop, you will decrease your family's exposure to germs while in the store.
Some stores offer special hours for at-risk individuals. If you're in a high-risk category, take advantage of this option.
It's important to wear a face covering and to practice social distancing while you're out.
Carry hand sanitizer with you, and always wash your hands thoroughly with soap and water as soon as you return home. Keep your hands away from your face while shopping, especially avoiding your eyes, nose, and mouth.
When paying, choose touchless options when offered. Otherwise, sanitize your hands and cards immediately after payment. Do not rely on gloves, as these may provide a false sense of security.
What You Need to Know About COVID-19 and Grocery Shopping
Even during COVID-19, essential shopping sometimes necessitates going into a store. Sooner or later, you will need to grab items like toilet paper or disinfecting wipes that can't be purchased online or via delivery.
In these situations, the FDA and Cleveland Clinic recommend practicing the following COVID-19 safety tips:
Always prepare a grocery list in advance. This will enable you to shop quickly and efficiently, minimizing your exposure to germs.
Bring your own wipes if you have them. Or, use those provided by the store to wipe down your shopping cart or basket. If you bring reusable bags, make sure you clean them before each use.
While inside the store, maintain a distance of at least 6 feet between yourself, other shoppers and the store's employees. Social distancing is essential, since coronavirus spreads through the droplets of an infected person who coughs or sneezes.
Limit the number of surfaces you touch and wash your hands as soon as you return home. Wash hands again after putting away groceries.
You probably don't need to disinfect your groceries. Currently, there is no evidence that food or food packaging can transmit COVID-19. Still, if you want to wipe down these items, there's no reason not to.
You can also leave non-refrigerated items out on the counter for 24 hours. Fruits and vegetables can be washed in cold water. There's no need to sanitize your produce.
What COVID-19 Safety Tips Apply to Takeout and Deliveries?
Your goal when accepting deliveries is to limit contact. Pay online or by phone when this option is provided. Ask for deliveries to be left in a safe spot outside your home, such as a front porch or lobby. If this isn't possible, strive to keep a distance of at least 6 feet from the delivery person.
After picking up your delivery, wash your hands with soap and water for 20 seconds. If soap and water are unavailable, use a hand sanitizer containing at least 60% alcohol. The same rules apply to picking up mail from the post office or a mailbox.
What Other Steps Should You Take While Running Errands during COVID-19?
For tasks such as going to the bank or pumping gas, similar rules apply. The goal is to limit contact with other people and commonly touched surfaces. Always wash or sanitize your hands when contact can't be avoided.
For example, at the gas pump, wipe handles and buttons before use. Apply hand sanitizer immediately after use and then follow-up with soap and water when available.
When banking, opt for the drive-thru, the ATM, or use mobile apps to perform routine transactions. When using the drive-thru or ATM, always wipe down surfaces beforehand, and then sanitize your hands afterward.
If you require additional banking services, take advantage of options such as telephone or virtual meetings. Wear a cloth face covering when conducting in-person exchanges and ask your banking representative to do the same. You should also stay at least 6 feet apart from other customers and bank employees.
After conducting an in-person, drive-thru, or ATM transaction, apply hand sanitizer with at least 60% alcohol. Follow up by washing your hands thoroughly once you have access to soap and water.
Where You Can Find COVID-19 Testing and Urgent Care
If you think you may have COVID-19 or have had the virus previously, FastMed can provide the testing you need. To schedule diagnostic or antibody testing, visit your local FastMed Urgent Care. If you have other urgent care needs, but wish to avoid visiting a clinic in-person, consider scheduling a telemedicine visit. Please review the list of symptoms currently being treated via telemedicine prior to scheduling your appointment by clicking here.
More Information About COVID-19
FastMed strives to ensure that we're not only caring for our community, but also keeping them educated on the latest health updates. Please visit our COVID-19 Resources page to learn more about the virus, commonly asked questions, updates specific to your state, and CDC recommendations.
About FastMed
FastMed Urgent Care owns and operates nearly 200 centers in North Carolina, Arizona and Texas that provide a broad range of acute/episodic and preventive healthcare services 365 days a year. FastMed also provides workers' compensation and other occupational health services at all its centers, and family and sports medicine services at select locations. FastMed has successfully treated more than six million patients and is the only independent urgent care operator in North Carolina, Arizona and Texas to be awarded The Joint Commission's Gold Seal of Approval® for quality, safety and infection control in ambulatory healthcare. For more information about locations, services, hours of operation, insurance and prices, visit www.fastmed.com.