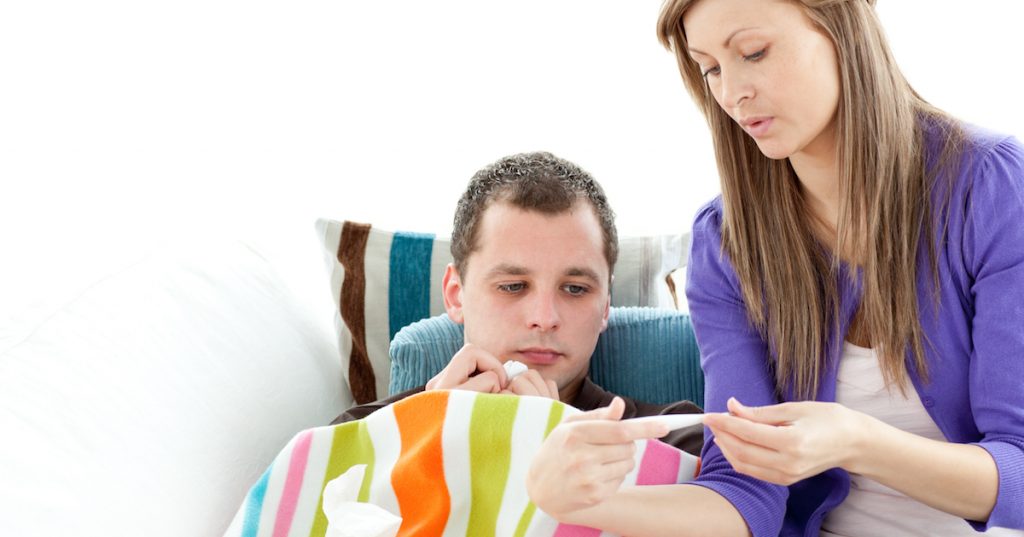 If you've been suffering from persistent coughing, sneezing, or congestion, you may be wondering if it's just a cold or something more serious. With the 2017 flu season underway, you might be wondering, "Is it a cold or the flu?" Knowing the signs to watch out for can help you receive the right cold and flu treatment, allowing you to feel better faster.
What's the Difference Between Cold and Flu?
The common cold and the flu both cause respiratory symptoms, but they're not caused by the same virus. Most common colds are caused by Rhinoviruses while the flu is exclusively caused by multiple strains of the Influenza virus. Cold and flu symptoms can be similar, so it can be difficult to tell which condition you have. Some of the symptoms shared by the common cold and the flu include:
Sneezing
Coughing
Watery eyes
Sinus congestion and pressure
Nausea
General fatigue
Headache
Fever
Sore throat
In most cases, the common cold tends to be milder, and symptoms usually clear up within a week. When infected with the flu virus, most people display more intense symptoms and may feel ill for several days or even weeks. Some patients may even experience complications from the flu, including bacterial infections or pneumonia. If you've been suffering from intense symptoms for several days, it's necessary to seek cold and flu treatment right away. This is especially important if you are pregnant or over 50 years old.
How are Colds and Flu Diagnosed?
Visiting a FastMed clinic is a great way to receive a quick diagnosis and the right cold and flu treatment. We can run special tests that determine whether your symptoms are caused by step or mono to rule those out.
Rapid flu, Strep, and Mono tests may be part of your evaluation depending on your symptoms. A provider will use a cotton swab to obtain a sample ether at the back of your throat or in your nose, which will be tested right in the clinic. Rapid tests yield results in less than 15 minutes, making it possible to receive a diagnosis that same day.
What Cold and Flu Medicine Should I Take?
Both over-the-counter and prescription medications may be recommended for the common cold or the flu. Your primary care provider or a FastMed provider can help determine which of the following medications best meets your needs:
Non-steroidal anti-inflammatory drugs, like ibuprofen, which can relieve pain, reduce fever and ease inflammation.
Antihistamines to combat sneezing, watery eyes and sinus congestion.
Nasal decongestants such as Mucinex will help to ease sinus pressure.
It's important to note that antibiotics cannot be used as cold and flu medicine because they do not treat viruses. However, they can be used to treat bacterial complications of the cold flu and may also treat sinusitis caused by a bacteria.
Children also have specific needs when it comes to cold and flu medicine. Young children under 6 who have developed a cough should not take over-the-counter cold and cough medications. Aspirin is not recommended for children and teens recovering from the flu because it increases the risk of developing Reye's Syndrome.
What Are Some of the Best Cold and Flu Remedies?
In addition to taking over-the-counter and prescribed medications, there are several cold and flu remedies that you can use at home to make you feel more comfortable. In addition to getting enough rest, some of the best cold and flu remedies include staying hydrated, using over-the-counter saline drops to relieve stuffiness, and using a humidifier to add moisture to the air. Saltwater gargles and lozenges can be used by adults and older children to soothe a sore throat. And don't forget the classic cold and flu remedy—chicken soup. A bowl of soup accompanied by warm tea or juice can help ease cold and flu symptoms while keeping you nourished.
How Can I Prevent Cold and Flu?
Unfortunately, there's no cure for the common cold or the flu, but there is some good news: flu vaccinations are a proven method of preventing outbreaks in both children and adults. Getting a flu shot is affordable and they're readily available at your local FastMed clinic.
Remember, only a healthcare provider can properly diagnose your condition. If you've been feeling ill for several days, you may require treatment beyond home cold and flu remedies. Don't put your health at risk—visit your local FastMed Urgent Care center for cold and flu treatment.
About FastMed
FastMed Urgent Care owns and operates nearly 200 centers in North Carolina, Arizona and Texas that provide a broad range of acute/episodic and preventive healthcare services 365 days a year. FastMed also provides workers' compensation and other occupational health services at all its centers, and family and sports medicine services at select locations. FastMed has successfully treated more than six million patients and is the only independent urgent care operator in North Carolina, Arizona and Texas to be awarded The Joint Commission's Gold Seal of Approval® for quality, safety and infection control in ambulatory healthcare. For more information about locations, services, hours of operation, insurance and prices, visit www.fastmed.com.