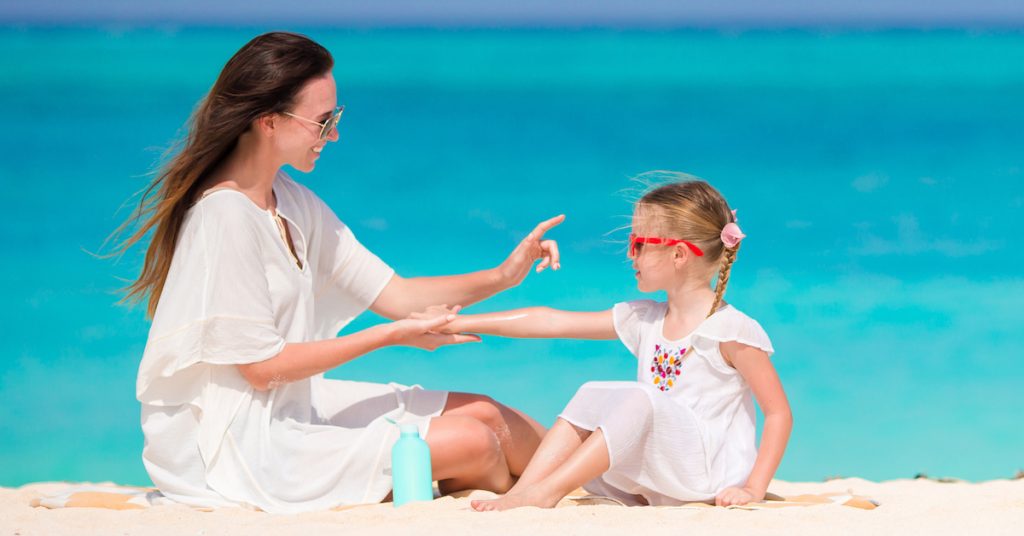 Sunburns are a common summertime occurrence. Although it may be easy to disregard a sunburn as a minor annoyance, even a handful of sunburns over the course of your life can double your risk for melanoma and other types of skin cancer. While you should take steps to protect your skin from the sun's ultraviolet rays by wearing sunscreen, hats, and protective clothing, sunburns can and will happen. If you find that you have spent a little too long outdoors, it is important to know how to treat sunburn symptoms and to understand when you should see a doctor for sunburn relief. The following are some of the most frequently asked questions that we get at FastMed Urgent Care regarding sunburn relief and sunburn treatment.
What's good for sunburn pain?
Of course, the first step of sunburn relief is to stop the burn process by getting out of the sun as quickly as possible. A cool bath or shower will reduce the temperature of the skin and alleviate some of your discomfort. Other sunburn pain relief treatments include taking acetaminophen, ibuprofen, or naproxen to reduce pain and inflammation. Aloe vera and over-the-counter cortisone creams can also be used on minor burns. It is best to avoid benzocaine and other "caine" products for sunburn treatment since these have the potential to irritate the already damaged skin or to cause allergic reactions.
Can you tell me how to treat sunburn blisters?
The blisters indicate that you received a second-degree burn. You should resist the urge to pop the blisters since they actually help with the healing process and protect your injured skin from infection. You should take steps to protect your skin while it heals by wearing loose clothing and avoiding further sun exposure.
Can you tell me how to treat sunburn skin peeling?
It is normal for skin to peel following a sunburn as the damaged skin sloughs away as part of the natural healing process. Lotions containing aloe, soy, or colloidal oatmeal can help moisturize the skin and relieve the symptoms of dryness and peeling. For the best results, apply the moisturizer to slightly damp skin to lock in the moisture. You can repeat the process as often as necessary for the first few days following the burn as your skin heals. You should avoid petroleum-based products, such as Vaseline, since they can trap the heat next to the skin and make the discomfort worse. It is also a good idea to drink extra fluids. Because of the damage to your skin, you lose more fluids than normal. Not only does this put you at greater risk for dehydration, but it can also worsen skin dryness and irritation.
What's good for sunburn prevention?
To reduce your risk of sunburn and skin cancer, you should wear a sunscreen with a sun protection factor of 15 or greater all year long. Remember that the ultraviolet rays of the sun can even penetrate through cloud cover, so you should not skimp on the sunscreen just because it happens to be a cloudy day. Plan to reapply sunscreen every couple of hours, especially if you are swimming or sweating a lot. Try to avoid going outdoors during the middle of the day when the sun's rays are strongest, from 10 a.m. and 4 p.m. If you go out, wear a hat and clothing that covers your skin to block as much of the sun as possible.
What should I do if conservative sunburn pain relief measures do not work?
In most cases, the discomfort of a sunburn goes away within a few days. If your symptoms persist or you experience any of the following, you should see a medical provider as soon as possible since these may indicate a more serious condition, such as sun poisoning:
Fever or chills
Dizziness
Is a sunburn the same as a heat rash?
Sunburn and heat rash are actually two different conditions. A sunburn is the result of too much sun exposure. A heat rash, on the other hand, can occur without being in the sun. A heat rash typically develops in places where sweat is trapped in folds of skin, such as under the neck, in the axilla and in the groin area. The rash is characterized by small, white blisters or red or pink pimple-like bumps.
From sunburns to bug bites, FastMed is ready to help seven days a week with all of your summer health concerns. With more than 100 locations in Arizona, North Carolina, and Texas, you are never more than a short drive away from one of our locations. We accept walk-ins and offer online check-in for your convenience.
About FastMed
FastMed Urgent Care owns and operates nearly 200 centers in North Carolina, Arizona and Texas that provide a broad range of acute/episodic and preventive healthcare services 365 days a year. FastMed also provides workers' compensation and other occupational health services at all its centers, and family and sports medicine services at select locations. FastMed has successfully treated more than six million patients and is the only independent urgent care operator in North Carolina, Arizona and Texas to be awarded The Joint Commission's Gold Seal of Approval® for quality, safety and infection control in ambulatory healthcare. For more information about locations, services, hours of operation, insurance and prices, visit www.fastmed.com.