Bronchitis is a respiratory disease in which the mucus membrane in the lungs' bronchial passages become inflamed. While acute bronchitis is common and can usually be treated rather easily, chronic bronchitis can be deadly. In fact, approximately 1,172 people die from chronic bronchitis each year. One question that everyone seems to have about bronchitis is this: Is bronchitis contagious? Today, FastMed Urgent Care will explore this question and others.
FastMed Urgent Care is a network of walk-in clinics throughout Arizona and North Carolina that strives to provide quality medical care with compassion. Open every day of the year, FastMed is an affordable and convenient alternative to the emergency room for non-life-threatening conditions.
What Causes Bronchitis? Is Bronchitis Contagious? What Are the Symptoms?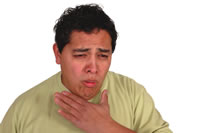 Acute bronchitis is typically caused by a viral or bacterial lung infection, and repeated attacks over time can lead to chronic bronchitis. If a person has acute bronchitis, the virus or bacteria can be spread to others and infect them. Chronic bronchitis can also be caused by long-term cigarette smoking and constant exposure to dust, fumes, and other pollutants in the atmosphere. Symptoms for acute and chronic bronchitis can include a hacking cough, shortness of breath, production of mucus, and chest discomfort.
5 facts about bronchitis that you may not already know:
Chronic bronchitis is 1 of 2 main types of COPD (chronic obstructive pulmonary disease); the other type being emphysema.
Elderly people and young children are at a higher risk for acute bronchitis than people in other age groups.
Acute bronchitis can increase a person's likelihood of developing pneumonia.
The same viruses that cause colds and the flu often cause acute bronchitis.
Chronic bronchitis is not contagious.
The FastMed Urgent Care mission is to serve our communities and patients with a high level of quality, personal care, affordable and convenient urgent care, family practice, and other specialty medicine services. FastMed accepts most insurance plans, online bill pay, discount programs, and online check-in. Click here to find a FastMed near you!