Sometimes abdominal pain is misleading. As much as it may hurt, an underlying medical condition could be causing the pain. Luckily, most cases are linked to non-life-threatening causes. Still, there are some cases where pain stems from a serious condition that may require extensive treatment. One important thing all of this variation means: it's an excellent idea to discuss your abdominal pain with a medical professional. Whether you're experiencing flank, upper, or lower abdominal pain, an urgent care can help you get evaluated by an experienced medical professional.
Three Types of Abdominal Pain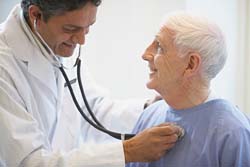 Abdominal Pain
Pain in the abdominal area can indicate a variety of conditions, depending upon the quadrant of the abdomen where it is focused. Here's a quick overview of the three regions where abdominal pain often starts and any health concerns to look out for in each case:
Upper Abdominal Pain. Pain in the upper left area may indicate anything from an enlarged or ruptured spleen to gastritis. If the pain is focused on the upper right side, it could be linked to liver disease or gallstones.
Center Abdominal Pain. Pain in the center of the abdomen may be the result of appendicitis or an intestinal obstruction.  
Lower Abdominal Pain. For women, lower abdominal pain is a common symptom associated with menstruation. Additional conditions may include Crohn's disease and Diverticulitis. 
In order to identify the exact cause of your abdominal pain, you will need to be evaluated by a medical professional. During your consultation, you may need to describe the pain and disclose any additional symptoms. The more information you can provide, the easier it will be for your healthcare specialist to determine the correct cause.
If you're concerned about anything from lower abdominal pain to a persistent cough, your local FastMed Urgent Care team can help quickly diagnose and treat your health concerns. Our facilities are open 365 days per year, including weekends and holidays. No appointment is necessary, and walk-ins are always welcome! If you're in a rush, try our online check-in service.