Pertussis, or more commonly known as whooping cough, is a bacterial infection that can be prevented with a vaccine or treated with antibiotics. Although it is highly contagious and often affects children who are too young to receive the vaccine, treatment for pertussis can still be effective.
Treating Pertussis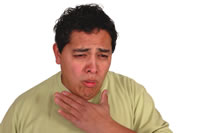 Antibiotics commonly used to treat pertussis include:
Erythromycin

Azithromycin

Clarithromycin

Trimethoprim-sulfamethoxazole
Antibiotics are most effective when taken within three weeks after acquiring pertussis.
Preventive Measures
Vaccinations are usually effective against preventing pertussis. Diphtheria and tetanus is usually administered as early as two months of age, with a series of booster shots thereafter.
Pertussis is highly contagious, so victims should be kept away from other people and anyone caring for an infant should be vaccinated.
A humidifier can also decrease the risk of whooping cough, as can an avoidance of dust, smoke, and chemical fumes.
What to Do Before Seeing a Medical Professional
Until you can get your child professional medical help, there are a few things you can do treat the symptoms of pertussis at home. Have them drink plenty of fluids to keep their throat lubricated. Give them small, frequent meals to prevent vomiting. A cool mist vaporizer can loosen secretions and soothe the cough.
Treatment of Severe Cases
Extreme cases of pertussis or ones that are showing resistance to antibiotics can sometimes result in hospitalization and the insertion of a breathing tube.
What's Not Recommended
Cough medicine is generally not recommended to treat pertussis. Over-the-counter cough medicine is strong enough for a common cold or cough but is typically not equipped to fight off pertussis. And prescription-strength medication is often too strong for young children, who are the most frequent victims of pertussis.
Testing for Pertussis
Testing for pertussis can consist of an examination, a nose or throat culture and test, blood tests, or a chest x-ray.
If you or one of your young ones are suffering from a severe cough that share symptoms of pertussis, come to FastMed and get the treatment you need.
About FastMed
FastMed Urgent Care owns and operates nearly 200 centers in North Carolina, Arizona and Texas that provide a broad range of acute/episodic and preventive healthcare services 365 days a year. FastMed also provides workers' compensation and other occupational health services at all its centers, and family and sports medicine services at select locations. FastMed has successfully treated more than six million patients and is the only independent urgent care operator in North Carolina, Arizona and Texas to be awarded The Joint Commission's Gold Seal of Approval® for quality, safety and infection control in ambulatory healthcare. For more information about locations, services, hours of operation, insurance and prices, visit www.fastmed.com.