Respiratory syncytial virus or RSV is a common and highly contagious virus that infects most babies before their second birthday. For most children, the virus causes little more than cold-like symptoms  (coughing and runny nose) and may go unrecognized. A small percentage of children will present more serious signs of RSV, including:
A barking cough
Wheezing
Difficulty breathing
Abnormally fast breathing
"Caving-in" of the chest between and under the ribs
Flaring nostrils with every breath
Bluish color around the mouth, lips, and fingernails
Pauses in breathing

You should seek medical attention if your child experiences these symptoms.
Other Signs of RSV
The following symptoms indicate a more severe form of RSV. In some cases, these symptoms signify a serious secondary illness such as bronchiolitis or pneumonia.
High fever
Thick discharge from the nose
A cough producing yellow, green, or grey mucus
Irritability or inactivity
Refusal to breastfeed or difficulty drinking
Signs of dehydration such as tearless crying; little or no urine for six hours; cool, dry skin
Lethargy
If your child experiences any of these symptoms, you should seek medical attention right away.
How to Prevent RSV
RSV is highly contagious and is spread through contaminated droplets dispersed when an infected person coughs or sneezes. The virus can live on surfaces, hands, and clothing, so it is easily spread by touching contaminated surfaces. As a result, thorough and frequent hand washing is the most effective means of prevention. Children with RSV should be kept away from other siblings, especially babies, and kept home from school until they no longer show signs of RSV.
Is It a Cold or RSV? FastMed Urgent Care Can Help.
At FastMed Urgent Care, we understand that babies can show signs of illness at all hours of the day, not just during business hours. That's why we have extended weekday hours and are open on the weekends. Our walk-in clinics have on-site labs to make a diagnosis quickly and get your child feeling better as soon as possible. Trust FastMed for quick, professional healthcare when you need it.
Here's what Kim R. had to say about FastMed:
"Being sick stinks, but my experience at the urgent care clinic was top notch. ALL of the staff were kind, helpful, and good listeners. The medical center was much more attractive than the typical walk-in clinic and the service was amazing. If I had to feel bad enough to see a family doctor, at least I was fortunate to have a clinic like this one nearby. Thank you!!!"
Find a FastMed Urgent Care near you!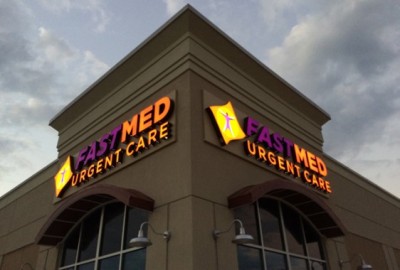 ———-
Sources: 
RSV Symptoms, Causes, and Risk Factors: http://www.lung.org/lung-health-and-diseases/lung-disease-lookup/rsv/rsv-symptoms-causes-risk.html
RSV in Babies: http://www.webmd.com/parenting/baby/rsv-in-babies
Respiratory Syncytial Virus: http://kidshealth.org/en/parents/rsv.html#