Suffering with a Sinus Headache?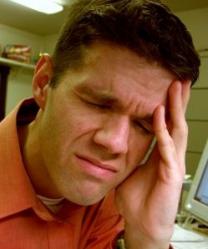 A sinus headache is one of the symptoms of a sinus infection, or sinusitis. There are four sinuses in the front of your face – basically they are air pockets in the skeletal structure around the eyes and nose. The sinuses are connected to your nasal passage. As you inhale, tiny hairs, called cilia which line the inside of your nose to trap airborne particles. When a particle slips past the cilia, it can end up being lodged in the connection to the sinuses. The sinuses become blocked, mucus can't drain, the pressure builds and suddenly you have a splitting sinus headache.
A sinus headache can be distinguished from other headaches, such as migraine headache by its relationship to the sinus area. Sinus headaches are usually accompanied by swelling, pain and pressure around the eyes and nose. Those areas may actually be painful to the touch and the sinus headache pain will intensify if you bend over. A sinus headache can be accompanied by a stuffy or runny nose, a cough and a sore throat. You can try over the counter medications for the pain and the pressure, but if you have a sinus infection, you need medical attention.
FastMed Walk-In Clinics Relieve Sinus Headache
If a sinus infection is causing your sinus headache, you will most likely be given a prescription for antibiotics and depending on the severity of your symptoms, a nasal spray to reduce swelling, inflammation and pressure. FastMed is open every day, including holidays and weekends, so don't suffer with a sinus headache/ Walk-in and see a doctor – we accept most major insurance plans and have a discount program to help manage the cost of your healthcare. All FastMed medical clinics ujse the latest medical technology including digital X-ray and digitized medical records. If you have a sinus headache, don't wait for it to become a sinus infection – come over to your local FastMed Urgent Care and get relief from the pain and pressure.
Other articles:
Allergies | Upper Respiratory Infection | Tuberculosis | Cold Sore Remedies | Sinus Infection
About FastMed
FastMed Urgent Care owns and operates nearly 200 centers in North Carolina, Arizona and Texas that provide a broad range of acute/episodic and preventive healthcare services 365 days a year. FastMed also provides workers' compensation and other occupational health services at all its centers, and family and sports medicine services at select locations. FastMed has successfully treated more than six million patients and is the only independent urgent care operator in North Carolina, Arizona and Texas to be awarded The Joint Commission's Gold Seal of Approval® for quality, safety and infection control in ambulatory healthcare. For more information about locations, services, hours of operation, insurance and prices, visit www.fastmed.com.