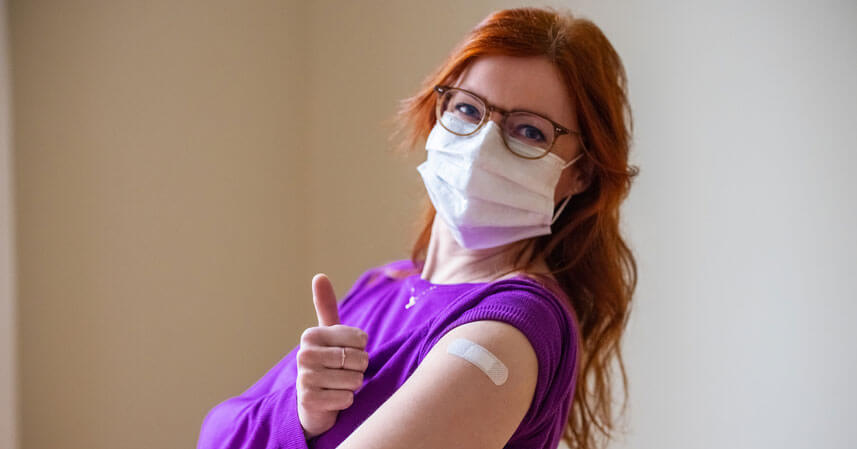 Public health officials, government leaders, doctors, and now even television commercials are touting the benefits of the COVID-19 vaccine. If you're still on the fence, please keep reading to learn why the COVID-19 vaccine is so important – not just for you, but also for your community.
COVID-19 vaccine confusion
The Mayo Clinic puts it best: COVID-19 vaccines are perhaps our best hope for ending the pandemic. But these are unprecedented times, and it's perfectly natural to have questions about COVID-19 vaccine effectiveness, COVID-19 vaccine side effects, and the different types of vaccines that are currently available.
FastMed is here to put your fears to rest and give you the facts you need to feel more confident about joining the millions of people who have gotten the COVID-19 vaccine. There's a lot of misinformation out there, so let's keep it simple by explaining what the COVID-19 vaccine will and will not do.
Will: stop the spread of COVID-19
There are many benefits of the COVID-19 vaccine, but two of the biggest are preventing you from getting COVID-19 (and potentially becoming seriously ill and dying) and preventing you from spreading the COVID-19 virus to others.
As more and more people are protected from getting COVID-19, it becomes harder for the disease to spread. This ultimately leads to "herd immunity," which is defined by the World Health Organization (WHO) as the indirect protection from an infectious disease that occurs when a population is immune either through vaccination or through immunity developed by the previous infection. WHO greatly supports achieving "herd immunity" for COVID-19 through vaccination – a far better option than allowing the virus to spread and potentially mutate, making it more resistant to vaccines.
Will: be effective
Great news about COVID-19 vaccine effectiveness: The Centers for Disease Control and Prevention (CDC) confirms that all COVID-19 vaccines currently available in the United States are safe and effective at preventing COVID-19.
Clinical trials for all vaccines must show they are safe and effective before any vaccine can be authorized or approved for use, and that includes COVID-19 vaccines. Any COVID-19 vaccines in development are being carefully evaluated and will only be approved if they make it substantially less likely that you will get COVID-19.
Will not: make you sick
While there are possible COVID-19 vaccine side effects, none of the available COVID-19 vaccines contain the live virus that causes COVID-19. Therefore, a COVID-19 vaccine cannot make you sick with COVID-19.
However, a COVID-19 vaccine can cause mild side effects after the first or second dose, including:
Pain, redness, or swelling where the shot was given
Fever
Fatigue
Headache
Muscle or joint pain
Chills
Nausea and vomiting
Swollen lymph nodes
If you experience any of these side effects, they typically appear within the first three days after vaccination and last less than 48 hours.
Will: allow you to do more
Many benefits of the COVID-19 vaccine do as much for our mental health as our physical health, especially after long periods of isolation caused by the pandemic. Being vaccinated can give you the ability to finally see your friends and family safely, get out and travel, enjoy outdoor events without a mask, and much more. You can even gather indoors without a mask with other people who are fully vaccinated.
Schedule your vaccine for COVID-19 today
The COVID-19 vaccine is available at select FastMed clinics in Arizona. In addition to providing COVID-19 vaccines, FastMed is dedicated to keeping our community educated on the latest COVID updates. Please visit our COVID-19 Resources page for more information, including commonly asked questions and the latest CDC recommendations.
About FastMed
FastMed is one of the nation's largest urgent care providers, with 100+ locations in Arizona, Florida, and North Carolina. FastMed provides a broad range of acute/episodic, preventive, and occupational healthcare – in its clinics and via telemedicine – as well as family medicine at select locations. FastMed is one of the few urgent care providers in the nation that has earned The Joint Commission's coveted Gold Seal of Approval® for quality, safety and infection control in ambulatory healthcare. For more information, visit www.fastmed.com.