Urgent Clinic, Immediate Care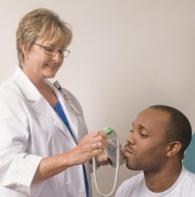 It can be difficult at times to schedule a visit to the doctor. It's seems like getting an appointment can take weeks or even months. When your child has an ear infection or your spouse has lumbago, an urgent clinic like FastMed is a great alternative for immediate care –  just type in your zip code to find a FastMed clinic near you. An urgent clinic should be convenient, affordable and available: We're open 365 days per year, and walk-ins are always welcome.
Immediate care at an urgent clinic should not be confused with emergency care at a hospital.  An urgent clinic treats non-life-threatening illnesses and minor injuries. A FastMed Urgent Clinic is the place to go if your team requires a sports physical, if you want a flu shot, or if you have a sinus infection – among other medical needs.  When your situation or condition is severe and you think there is even a chance that your life is in jeopardy, dial 9-1-1 and immediately get to the hospital. Use this interactive tool to help understand urgent care vs emergency care.
What to Expect at a FastMed Urgent Clinic
The FastMed model is very similar to family medicine  We have on-site labs to get tests results quickly without shipping samples to an outside vendor.  We have equipment and know-how to take an EKG, digital X-ray, stitch up a cut, and put a cast on a leg. FastMed quick clinics cab also do physicals for work, school, and the DOT.  
Adult and Pediatric Urgent Care:
Mild to moderate illness
Injuries and orthopedics
Physicals for children and adults
Vaccinations and flu shots for children and adults
Acute and chronic illness management, including diabetes, high cholesterol, hypertension, and endocrine issues
Gynecological exams and sexual health care
If you need a referral to a specialist, our medical staff will recommend a provider, set up your appointment, and forward your electronic medical records and digital x-rays. 
 More Articles: Insurance Plans  |  Physicals | Treatment For Flu | Walk in Health Clinic | Low Cost Urgent Care | Flu Shot Locations