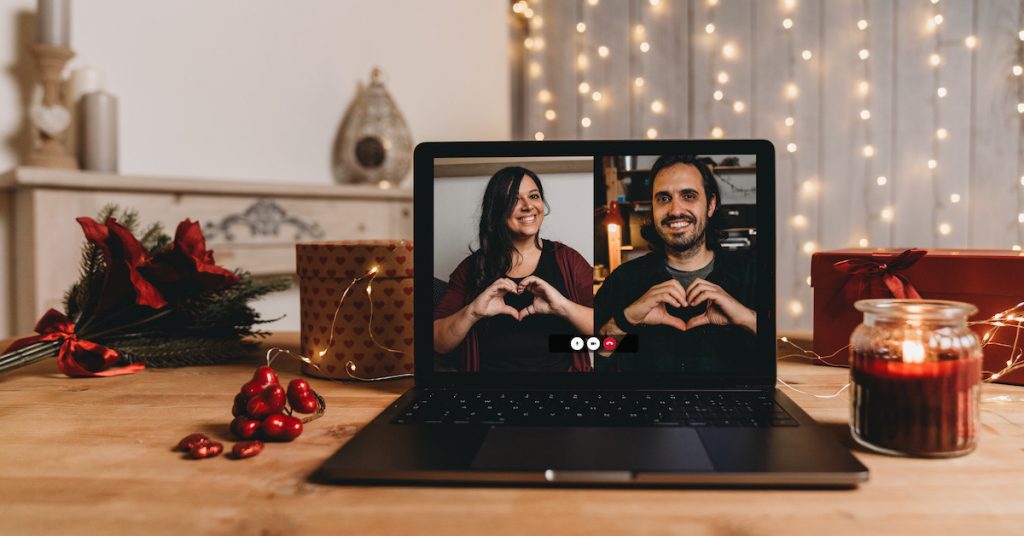 Nothing brings romance to a screeching halt like a pandemic. Or so you thought! You can celebrate your love safely with these creative COVID-19 Valentine's Day ideas from FastMed.
Valentine's Day and COVID-19 certainly sound like good candidates for the worst couple ever. But as much as we'd all like to break up with COVID-19, unfortunately, it is still very much a part of our lives. Many of the traditional ways of celebrating Valentine's Day—a romantic concert in the park, a candlelit meal at an elegant restaurant, or an anti-Valentine's Day night on the town with our single friends—can't happen safely this year.
Ensuring COVID-19 safety on Valentine's Day is especially important if your loved one is already at risk or has tested positive for the virus. Thankfully, even if you can't physically be together or must have as little contact as possible, you don't have to skip Valentine's Day entirely this year.
FastMed is happy to provide these COVID-19 Valentine's Day ideas for everyone, from couples in love, to families, to Galentines celebrating the bonds of friendship. Keep reading to learn how you can make Valentine's Day as fun and as special as ever—even from a distance. All it takes is a bit of creativity and a solid COVID-19 safety plan.
We could all use a little extra love right now. Consider these COVID-19 Valentine's Day ideas to help you celebrate safely:
1. Transform your home into a cozy love nest
With some dimmed lighting, mood music, pillows, and a few soft blankets, you can transform just about any room into a comfortable place to cuddle with the one you love.
2. Recreate your first date
This is a great opportunity to recreate the magic of your first date. If you went out to eat, order takeout from the same restaurant or print the menu and try to make one of the dishes in your own kitchen. If you went to a movie, rent or stream the film and watch it again. Whatever your first date entailed, get creative and do whatever you can to mimic that event.
3. Spa day without the spa
Massage offers so many health benefits, from stress relief to reducing pain to improving circulation. Besides, who wouldn't want some extra pampering? Put on some relaxing music and take turns massaging each other's feet, shoulders, or back. You might be better at it than you think!
4. Ask thoughtful questions
Asking questions can help spark intimate conversations with your loved one, especially questions that help you recall why you fell in love in the first place. Find a quiet place to ask each other questions like:
What was the first thing you noticed about me?
What is your favorite thing about our relationship?
Is there anything you wish we did together more often?
What is your definition of romance?
5. Read to each other
Whatever genre you and your loved one prefer, take turns reading a few pages to each other from your favorite book. Be sure to discuss and share your thoughts with one another.
6. Decorate the door
Social distancing is important for us all, but especially for those who are at high risk of contracting the virus. When you can't physically be together, there are still many things you can do in the spirit of Valentine's Day and COVID-19 safety. Start by decorating the doors in your home or the front door of a loved one in quarantine with paper hearts, notes, photos, and anything else that shows your love.
7. Blow kisses (the chocolate kind)
If arts and crafts are not your speed, you can still leave a bit of love at someone's doorstep by putting together a baggie filled with Hershey's kisses and a Valentine note.
8. Send love bombs
Show your love from afar by sending "love bombs" to the special someone in your life. Write the reasons you love that person on pink or red plastic balls or balloons, and then throw or hit them to each other from a safe distance.
9. Share love letters out loud
Whether you and your Valentine are together or apart, love letters are the definition of old-fashioned romance. Be sure to make your love letter personal, including your favorite memories and the many reasons you love them. Open the letters and read what you love about each other in person or on video chat, which should lead to some heartwarming moments for you both.
10. Make your love clear
If your loved one is quarantined behind a window or glass door, you can use dry-erase markers to share your Valentine greetings and messages of love in real-time.
11. Bake valentine treats
Set up a video chat with your family, friends, and other loved ones to bake and decorate Valentine's Day treats together. Better yet, drop off some of the treats to your local healthcare workers, first responders, and others who are working so hard to keep us all safe.
12. Have a heart-healthy dance party
With all the COVID-19 restrictions, many of us aren't getting the physical activity that we should. Time for a dance party! Apps like YouTube or TikTok are filled with dance videos that you can use for inspiration.
13. Arrange a virtual Valentine's Day gathering
From in-home scavenger hunts to virtual concerts, there are countless activities that can be shared remotely with your loved ones via Zoom or another video chat app.
14. Spread the love
People of any age can help spread the love to others by painting rocks with Valentine's Day messages like LOVE, UR CUTE, XOXO, and whatever else comes to mind. Hide the rocks throughout your community (walking trails, parks, etc.) to spread love throughout the year.
Valentine's Day and COVID-19 may not sound like they go together, but with an open mind and a solid COVID-19 safety plan, they absolutely can! In times of profound stress, a little extra love can work wonders for your physical and mental health.
COVID-19 safety tips for Valentine's Day and beyond
In addition to providing convenient COVID-19 testing, FastMed is dedicated to keeping our community educated on the latest health updates. Please visit our COVID-19 resources page to learn more about the virus, including commonly asked questions, the latest CDC recommendations, and COVID-19 safety tips.
To learn more about health updates in your specific state, please use the links below:
About FastMed
FastMed Urgent Care owns and operates nearly 200 centers in North Carolina, Arizona and Texas that provide a broad range of acute/episodic and preventive healthcare services 365 days a year. FastMed also provides workers' compensation and other occupational health services at all its centers, and family and sports medicine services at select locations. FastMed has successfully treated more than six million patients and is the only independent urgent care operator in North Carolina, Arizona and Texas to be awarded The Joint Commission's Gold Seal of Approval® for quality, safety and infection control in ambulatory healthcare. For more information about locations, services, hours of operation, insurance and prices, visit www.fastmed.com.