Your vital capacity is the amount of air which can be forcibly exhaled from the lungs after taking the deepest breath possible. It sounds simple enough. Take a deep, deep breath, then exhale as much air as you can to empty your lungs. For most of us, exhaling as much air as possible is no problem. For people with conditions such as COPD, asthma, and cystic fibrosis, exhaling a large amount of air can be difficult.
If you are having a difficult time breathing, don't hesitate to visit a FastMed location near you. Difficulty breathing in or exhaling can be a sign of a serious lung condition, which requires immediate attention..
Measuring Vital Capacity to Diagnose Lung Disease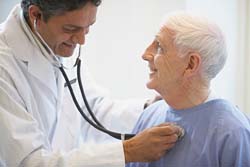 There are some lung conditions that can affect your vital capacity:*
COPD
Asthma
Cystic fibrosis
Emphysema
Pneumonia
Lung functioning tests are used to diagnose these conditions. They can also do the following:
Find the cause of shortness of breath
Measure whether exposure to chemicals at work affects lung function
Check lung function before someone has surgery
Assess the effect of medication
Measure progress in disease treatment
The most commonly used lung function test is spirometry. It measures your vital capacity by having you breathe into a mouthpiece that is attached to a recording device. If you have trouble breathing, determining your vital capacity is often the first step to recovery.
Don't hesitate to speak with a medical professional about breathing difficulties. At FastMed, you don't need an appointment to see a physician. You can simply walk in, wait a few minutes, and receive quality treatment from our dedicated and caring staff every day of the week all 365 days of the year–including holidays!