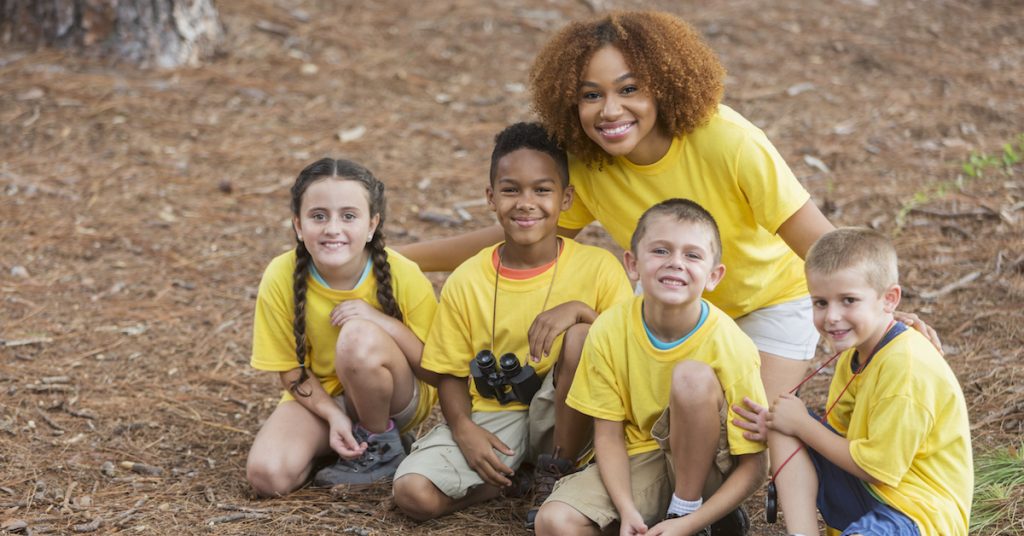 Most summer camps require a physical before attendance. A camp physical screens for pre-existing medical conditions that might put your child at risk while taking part in typical camp activities.
In addition, summer camp can expose your child to allergens that trigger asthma and other allergic reactions. Therefore, a camp physical is a good time for your healthcare provider to review your child's general health, pinpoint potential hazards, and recommend any necessary precautions, treatments, or medications.
To ensure that you have enough time to update the required immunizations, or take care of any possible medical concerns that may be uncovered, you should complete your child's summer camp physical well before the date he or she will be attending camp.
What to Expect During the Camp Physical Exam
In general, the goal of a camp physical is to pinpoint issues that could worsen a pre-existing condition and to uncover any new conditions that might pose a serious health threat. In addition, a camp physical can prevent the passing of contagious illnesses from one camper to another, as well as give the healthcare provider an opportunity to provide useful tips that can protect a camper from injury or harm.
Equally important, the physical will ensure that the camp's staff is on the lookout for issues that could impact your child's health, safety, or wellbeing during the camp stay. For example, if your child has a history of asthma, he or she may be required to bring an inhaler to camp as a precaution. Also, recent injuries, such as sprains or strains, should be noted by camp staff in order to limit your child's participation in certain activities. This will reduce the risk of re-injury and spare your child unnecessary pain.
Specifically, the comprehensive camp physical exam conducted by your local FastMed provider includes:
A thorough review of your child's medical records and family history
A check of vital signs, height, and weight
A vision screening
Medication authorization, if needed
Treatment planning, including any dietary restrictions or physical activity limitations
A vaccine review*
*FastMed follows CDC guidelines for a vaccine review. Patients must bring their vaccine history information in order for the vaccine review to be completed.
How to Prepare for the Physical Exam
Make certain you bring along all required forms and any other necessary paperwork provided by the camp your child will be attending. The portions that need to be filled out by the parents should be completed prior to the actual medical exam. It is also important to bring your child's medical records as well as their vaccine history for the provider to review.
On the day of the exam, make sure your child wears loose-fitting clothing and brings along all necessary items, such as prescription eyewear, an inhaler, or an EpiPen. Your child should also be knowledgeable on how to use any required medical devices.
In addition, the parents should be ready to discuss new health issues or concerns with the healthcare provider at the time of the exam. This is especially important in the case of injuries like concussions, broken bones, and sprains, as these could cause your child further harm if not taken into consideration.
After Your Child's Camp Physical Exam
Once your child's physical is complete, the necessary forms from the camp (provided by the parents) will be signed by the medical examiner. In some cases, your child may require a follow-up exam, additional testing, or treatment for a specific medical problem. If necessary, these concerns will be addressed with you during your visit.
Where Can I Find Summer Camp Physicals Near Me?
Have you been wondering, "Who offers summer camp physicals near me?" If so, urgent care physicals are a smart solution. Urgent care physicals provide the same evaluation and recommendations as those from pediatricians and family physicians, but without having to wait weeks for an appointment.
FastMed's highly qualified medical professionals offer extended hours, seven days a week, 365 days a year. Simply visit one of the hundreds of locations throughout North Carolina, Texas, or Arizona. Our on-site labs, X-rays, and testing services provide everything necessary at one convenient place. No appointment is ever necessary, but you can check in and register online before your visit to reduce your wait time.
About FastMed
FastMed Urgent Care owns and operates nearly 200 centers in North Carolina, Arizona and Texas that provide a broad range of acute/episodic and preventive healthcare services 365 days a year. FastMed also provides workers' compensation and other occupational health services at all its centers, and family and sports medicine services at select locations. FastMed has successfully treated more than six million patients and is the only independent urgent care operator in North Carolina, Arizona and Texas to be awarded The Joint Commission's Gold Seal of Approval® for quality, safety and infection control in ambulatory healthcare. For more information about locations, services, hours of operation, insurance and prices, visit www.fastmed.com.