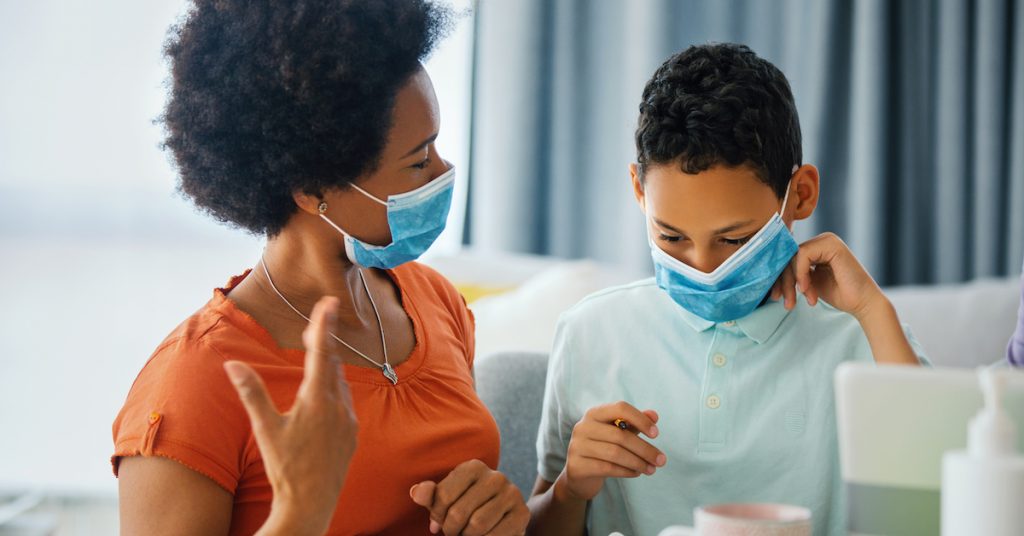 Despite your best efforts to avoid COVID-19, you or a loved one in your home may have contracted the illness. If so, how can you prevent spreading COVID-19? What are your COVID-19 treatment options? The following tips from FastMed can help to safeguard yourself and others.
How Can I Protect Others if I'm Sick with COVID-19?
If you have COVID-19, it's essential to remain at home unless you require medical care. This means staying home from work, school, and other public areas, and not using public transportation, taxis, or ride-sharing services.
If you live with others, it's important to separate yourself from them and any pets. Try to stay isolated in one room and avoid shared spaces as much as possible. If available, use a separate bathroom. Consider using a delivery service for grocery items and prescription medications if a friend or family member can't get them for you.
The Centers for Disease Control and Prevention (CDC) recommends staying at least six feet away from those in your household and wearing a mask whenever you're near them. According to the CDC, wearing a mask reduces the risk of spreading COVID to others by preventing respiratory droplets from being released into the air. If you're unable to wear a mask, always cover your nose and mouth with your elbow or a tissue every time you cough or sneeze. It's also important to frequently wash your hands with soap and water for at least 20 seconds, especially after sneezing or coughing. When soap and water aren't available, you can clean your hands with an alcohol-based hand sanitizer that contains at least 70% alcohol.
To protect others in your home, never share personal items such as electronics, cups, dishes, and towels. At least once a day, make sure you use a household disinfectant to clean all of the frequently touched items in your personal space. Pay special attention to phones, tablets, keyboards, remote controls, doorknobs, counters, light switches, toilet handles, and bathroom fixtures.
When Can I Be Around Others After Receiving COVID Treatment?
According to the Mayo Clinic, most people sickened by COVID-19 experience only mild symptoms and many feel better after about a week and only need symptomatic measures as recommended by their healthcare provider. The CDC recommends following these guidelines for ending self-isolation after being infected with SARS-CoV-2, the virus that causes COVID-19.
At least 10 days must have passed since your symptoms first appeared
You've experienced at least 24 hours without a fever and are no longer taking fever-reducing medications
All of your other COVID-19 symptoms are improving
People who were severely ill or are immunocompromised should wait up to 20 days after their symptoms first appeared. If you were a caregiver to a person affected by COVID-19, the CDC recommends self-isolating for 14 days after your last close contact with the sick person.
How Can I Stay Safe While Providing COVID-19 Help to Someone?
If you're providing COVID-19 help to someone in your home, there are many things you can do to stay safe. When possible, try to stay at least six feet away from the affected person. Always ask the sick person to put on a mask before you enter the room, and you should also wear a mask when you're providing care. Wearing disposable gloves can prevent you from coming into direct contact with the sick person's bodily fluids such as saliva and mucus. Always wash your hands before and after taking off your gloves and mask. Never reuse gloves or disposable masks.
Be sure to wear gloves and use caution when handling dishes, cups, utensils, or bedding used by the sick person. When washing their laundry, use the hottest water setting. Utensils, cups, and dishes should be washed in warm, soapy water or placed in the dishwasher. Clean and disinfect your home frequently with disinfecting wipes or household cleaning sprays. Avoid entering and cleaning the space where the sick person is self-isolating.
Always avoid touching your face and eyes, and be sure to wash your hands frequently. If it's not possible for the sick person to self-isolate, ensure that the space is well ventilated. Opening a window can improve air circulation. If you're sharing a bathroom with the affected individual, the sick person should disinfect the room after each use. If this isn't possible, you should disinfect the bathroom before each use, wearing a mask and gloves.
What COVID-19 Treatment Steps I Can Take at Home?
COVID-19 treatment options are focused on relieving your symptoms and helping you stay comfortable while your body heals. Taking over-the-counter pain relievers, especially acetaminophen, can help to reduce a fever. Since fever can cause dehydration, drinking plenty of fluids throughout the day and getting as much rest as possible are also important COVID treatment steps. Stay in touch with your doctor and follow the instructions they provided.
What If COVID-19 Treatment at Home Isn't Effective?
If at-home COVID treatment isn't effective and your symptoms are worsening, call your doctor and describe what you're experiencing. Emergency medical attention is needed if you or someone you're caring for has any of these symptoms:
Difficulty breathing
Chest pain that doesn't go away
Bluish coloration to the face or lips
Sudden confusion
Inability to stay awake or if the affected person can't be awakened
When calling 911 for a medical emergency, it's essential to tell the dispatcher that the emergency workers are responding to a COVID-19 call.
Where You Can Find Covid-19 Testing And Urgent Care
If you think you may have COVID-19 or have had the virus previously, FastMed can provide the testing you need. To schedule diagnostic or antibody testing, visit your local FastMed Urgent Care.
More Information About Covid-19
FastMed strives to ensure that we're not only caring for our community but also keeping them educated on the latest health updates. Please visit our COVID-19 Resources page to learn more about the virus, commonly asked questions, updates specific to your state, and CDC recommendations.
About FastMed
FastMed Urgent Care owns and operates nearly 200 centers in North Carolina, Arizona and Texas that provide a broad range of acute/episodic and preventive healthcare services 365 days a year. FastMed also provides workers' compensation and other occupational health services at all its centers, and family and sports medicine services at select locations. FastMed has successfully treated more than six million patients and is the only independent urgent care operator in North Carolina, Arizona and Texas to be awarded The Joint Commission's Gold Seal of Approval® for quality, safety and infection control in ambulatory healthcare. For more information about locations, services, hours of operation, insurance and prices, visit www.fastmed.com.