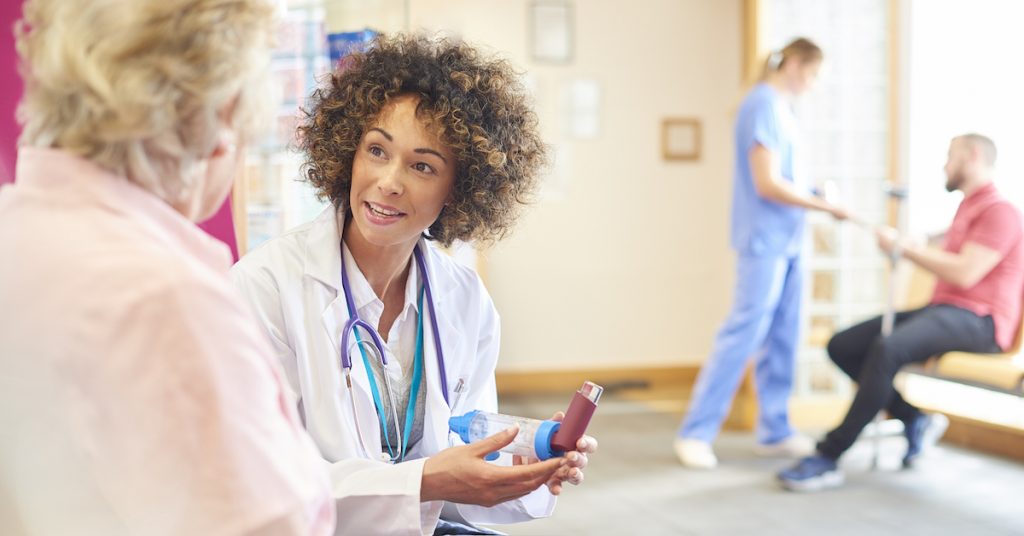 Approximately 25 million Americans, including 7 million children, suffer from asthma. An asthma attack can come on suddenly and leave the individual feeling as if they are drowning in air. When asthma symptoms are severe or continue getting worse over time, prompt medical attention is critical. Here are some considerations regarding when you should consider visiting FastMed Urgent Care for asthma attack treatment or to discuss your asthma treatment plan.
What Causes an Asthma Attack?
Asthma is a respiratory condition in which the bronchial tubes that allow the passage of air into and out of the lungs become inflamed and can also become blocked with excess mucus. An asthma attack occurs when the muscles surrounding the bronchial tubes constrict, which causes the air passages to narrow to the point that the individual cannot effectively move air into or out of the lungs.
A person may experience an attack after exposure to allergens or irritants, such as pollen, pet dander, dust mites, cigarette smoke, or strong odors or fumes. Respiratory illnesses, such as the flu or sinusitis, weather changes, strenuous exercise, and even intense emotions may precipitate an attack. Most individuals with asthma will notice increased shortness of breath, diminished exercise tolerance, a worsening cough, and an increased need for the use of quick acting or rescue asthma inhalers just prior to an attack.
Mild attacks may resolve on their own within a few minutes or with the help of medications that can be administered at home. Severe attacks require immediate medical treatment in order to shorten the duration and prevent more serious problems.
Common Symptoms of Asthma
The type, severity, duration, and frequency of asthma symptoms varies from person to person. Common symptoms include:
Difficulty breathing or shortness of breath
Pain or tightness in the chest
Wheezing
Coughing, wheezing, or shortness of breath when trying to sleep
Wheezing and coughing that become worse with an associated respiratory infection
Asthma Treatment
Treating asthma focuses on prevention, long-term control of symptoms to prevent flares, and emergency asthma attack treatment to provide quick relief during a severe attack.
Long-term asthma control is typically achieved through the use of long-acting oral and inhaled medications to reduce inflammation, prevent the body's release of chemicals that can cause airway inflammation, and relax the muscles of the airways. During an acute attack, these medications are supplemented with emergency asthma inhalers or nebulizer treatments containing fast-acting medications that immediately relax the muscles of the airways and reduce airway inflammation.
When to See a Doctor About Your Asthma
Severe asthma attacks are potentially life threatening. It is important to seek urgent medical care anytime you experience an asthma emergency, including:
Shortness of breath or difficulty breathing with minimal exertion
Wheezing or shortness of breath that worsens quickly
Symptoms that do not resolve after using a rescue inhaler
Individuals with asthma should monitor their breathing closely and be aware of increased coughing, shortness of breath, or other signs of an impending attack. By treating the attack early, it is possible to lessen the severity and the duration of the symptoms.
Although asthma cannot be cured, it can be managed and severe attacks can be prevented by working with your healthcare provider to create an asthma action plan that includes the following:
Getting vaccinated to prevent flu and pneumonia
Identifying and avoiding potential asthma triggers
Taking all medications as prescribed
It is possible for asthma symptoms to change over time. Effective long-term control requires you to be aware of changes in your symptoms and to communicate those changes to your healthcare provider. If you find yourself experiencing more frequent or severe symptoms or using your rescue inhaler more often, your asthma control regimen should be re-evaluated.
If not controlled properly, asthma can interfere with your ability to engage in your daily activities, lead to emergency room visits and hospitalization, and result in more sick days from work or school. Over the long term, uncontrolled asthma can cause permanent changes to the airways that can affect how well you can breathe.
Achieving Better Asthma Control at FastMed
FastMed Urgent Care clinics offer a variety of treatments designed to help you gain better asthma control and get you through mild to moderate asthma flares.
FastMed offers flu and pneumonia vaccines to reduce your chances of respiratory infections that can exacerbate your asthma.
Our providers can assist you in developing an asthma control plan and finding the right combination of asthma medications.
Our urgent care clinics offer on-site nebulizer treatments for acute attacks with no appointment necessary.
FastMed offers convenient and affordable care to serve patients at more than 100 clinics throughout Arizona, Texas, and North Carolina. All FastMed clinics accept most major insurance including private plans as well as Medicare, Medicare Advantage and Medicaid.
About FastMed
FastMed Urgent Care owns and operates nearly 200 centers in North Carolina, Arizona and Texas that provide a broad range of acute/episodic and preventive healthcare services 365 days a year. FastMed also provides workers' compensation and other occupational health services at all its centers, and family and sports medicine services at select locations. FastMed has successfully treated more than six million patients and is the only independent urgent care operator in North Carolina, Arizona and Texas to be awarded The Joint Commission's Gold Seal of Approval® for quality, safety and infection control in ambulatory healthcare. For more information about locations, services, hours of operation, insurance and prices, visit www.fastmed.com.