Those with breathing problems such as asthma, COPD, or other lung diseases like bronchitis never know exactly when an attack might occur. Whether you're experiencing a first-time asthma attack or recurrent breathing problems, your FastMed professionals are here to help with asthma or a nebulizer treatment you need.
Our clinics are open both early and late, 7 days a week, 365 days a year. We can provide immediate, convenient, affordable asthma and nebulizer treatments for a variety of breathing concerns. No appointment is ever necessary. For your convenience, feel free to check in online in advance.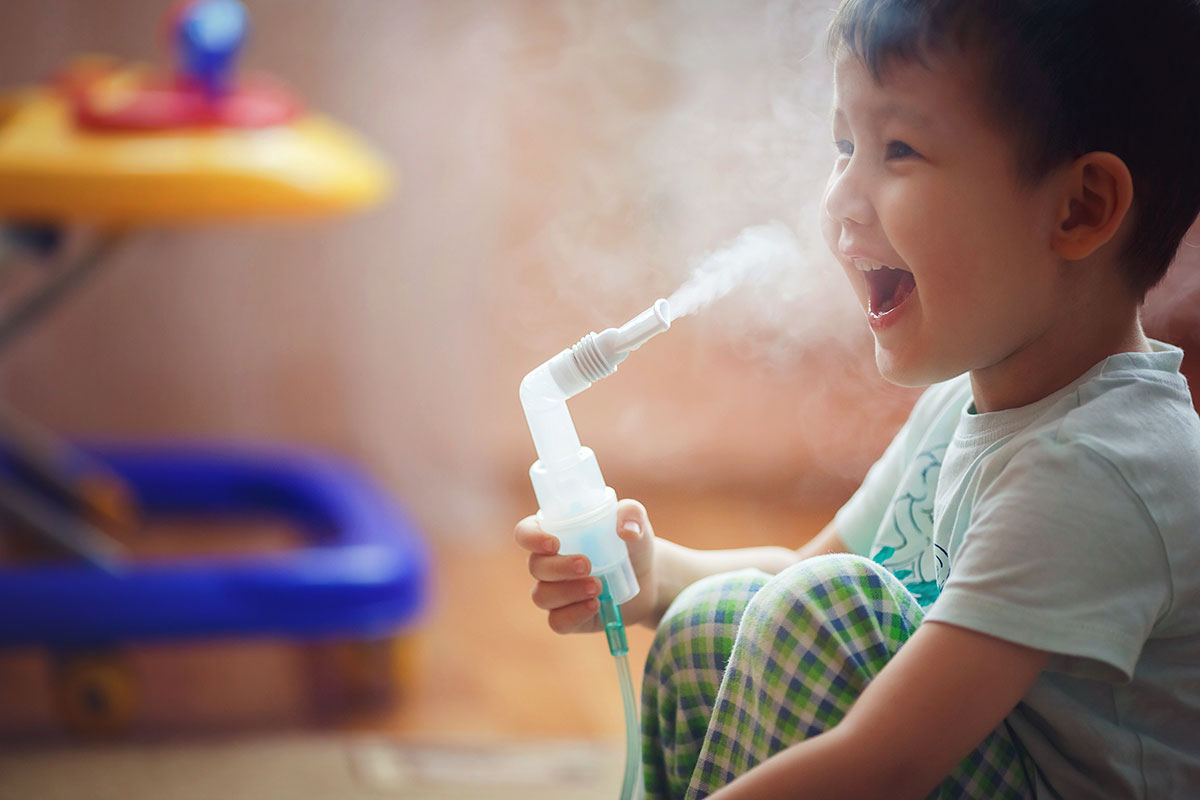 What is a nebulizer?
A nebulizer is a machine that works in much the same way as a pocket inhaler, only instead of delivering medication via a spray, as an asthma inhaler does, the nebulizer delivers it as a mist. This makes it easier to inhale for those experiencing an asthma attack or other serious breathing problems.
How to use a nebulizer
If your FastMed provider prescribes nebulization treatment for your breathing problem, you will be administered either premixed or ready-to-mix containers of nebulizer medication to be used with a nebulizer device.
If you require follow-up asthma treatments at home, you may be directed to use a home or portable asthma nebulizer machine. In general, follow the instructions given by your FastMed provider when using your nebulizer, and read the manual that comes with the device.
Although instructions may vary somewhat by machine, for the most part, the instructions for using a nebulizer are as follows:
Place the nebulizer on a flat surface and plug it into an electrical outlet.
Wash your hands thoroughly before preparing the medication.
Place the premixed medication in the nebulizer container. Or, mix & place the medication into the container as written on your Exit Care documents if it is not premixed.
Connect the tube to the compressor & to the medication cup.
Attach the mask or mouthpiece included.
Turn on the machine & make sure it is misting before securely placing the mouthpiece into your mouth or mask over your face.
Secure the mask over your nose & mouth.
Slowly breathe in & out until all the medicine is gone—avoid hyperventilating or taking especially deep breaths. This should take anywhere from five to 15 minutes. Make sure you keep the container of medicine upright during the entire treatment.
Afterward, turn off the nebulizer & clean thoroughly, following the instructions provided.
How does a nebulizer work?
Your FastMed provider may advise you to continue your breathing treatments after you leave the FastMed clinic. If so, you will be instructed on how to use a home nebulizer. Nebulizers work by transforming the medication you're given from a liquid into a mist that can be easily inhaled into the lungs. By converting the medication to a mist, the nebulizer enables it to reach your lungs faster and to more quickly correct your breathing problem.
Nebulizer treatments can be especially effective for those too young to use an inhaler or those who require large doses of medication. Nebulizer devices are available for both home use and in portable versions suitable for carrying with you when away from home.
Your nebulizer breathing treatment may include medications for immediate relief, as well as ongoing treatment. Make sure you read and follow the medication directions closely, and use only as directed.
Where to get nebulization therapy
When you need nebulizer treatments or immediate assistance for a non-life-threatening breathing problem due to asthma, COPD, or other lung diseases, your FastMed team is available to help. We're open extended hours on weekdays, weekends, and holidays.
Whether you need on-site nebulizer therapy or a prescription for home nebulizer medication, our qualified professionals are here for you with no appointment necessary. Just walk into one of our convenient clinics or check in online beforehand. Our clinical team will make sure you get the nebulization therapy you need when you need it.
* The content presented on this page is not intended to diagnose health problems or take the place of professional medical care.