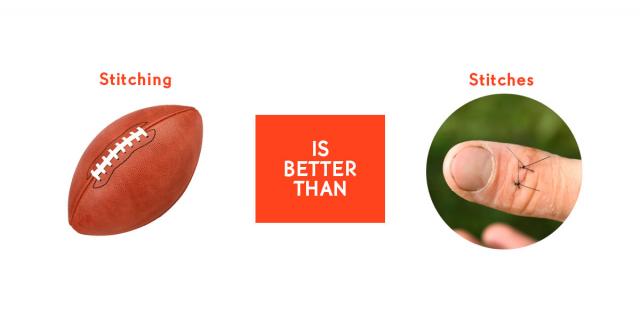 FastMed has been working on a new technology for a long time. We're trying to discover a way to mend a broken heart. We'd love to be able to stitch it right up and send you back on your way, so you can find the next love of your life. Only so far, we're having trouble getting the procedure perfected, so in the meantime we're just sewing cuts and scrapes, life's regular booboos. Stitches are no fun, but when done well they can be an easy fix to a messy problem.
When do I need stitches?
We hear this question a lot: How do I know if I need stitches? Well, we're going to encourage you to use your thinker in instances where you may or may not need stitches.  In most cases, common sense will lead you to the right conclusion. If you are still unsure or worried, you should probably see a doctor. You can also keep some of the following rules in mind:
On your neck, get it checked. Anytime you have a cut on your neck and it's bleeding you should talk with a healthcare professional.
If blood pours, call for sure. Any cut that squirts blood or has blood running from it needs medical attention.
See a flap, stitch it back. If ever you get cut and there is a loose piece or flap of skin, it needs to be properly reattached.
Got debris, the doc should see. When a cut is caused by debris or an object is stuck in the cut, a professional should see it.
If the cut's long, a visit ain't wrong. Anytime a cut is longer than 1/3 of an inch or deeper than ¼ of an inch, see a healthcare professional.
In addition to the rules above, remember that if you are in doubt, hop on your mount. Confused? Get it fused…. Well, you get the picture.
Do stitches hurt and will I have a scar?
People always want to know if stitches hurt. Most of the people who are really concerned about the pain of stitches have seen one too many action movies where the hero finds a stray needle and ties his own wounds together without anesthesia. If you get stiches at FastMed you will not have to bite on a stick to muscle through the pain. We are not a movie set in the middle of the jungle. We are a friendly, locally-staffed healthcare center and we can stitch you up comfortably and in a way that leaves less scarring.
Keep in mind, a percentage of severe scarring is related to not getting stitches when stitches are needed. Any cut can leave a scar, but you can reduce scarring if you do what you can to help a wound heal properly. FastMed will also help you prevent scarring by talking through caring for a wound once you're home, including how to keep the wound lubricated and properly bandaged.
How and when do stitches come out?
In the olden days, even a few years ago, stitches always had to come out. You had one office visit to stitch the wound and a second to have the stitches removed. Today, the materials we use to stitch simple cuts and lacerations have changed, so you may not even need a second visit. Stitches these days may dissolve, depending on the type of cut and how your healthcare professional treats the wound.
It's hard to predict how long you will have to keep the stitches in. Some cuts heal enough to bind on their own after only a couple of days while more serious injuries may take weeks to heal. Your healthcare professional will determine how long you need to have your stitches in on a case-by-case basis.
When it comes to stitches, trust FastMed
At FastMed, we have addressed a number of cuts. We've seen them all. Being open on the weekend and in select locations the holidays, gives us the chance to treat the oddest of seasonal cases as well. We're the place people go when the carving knife dashes through the dark meat and lands in a thumb. We're open on the weekends when your kid's skateboard failed to grow wings and fly over that bike rack. We're your scar-preventing destination when all you catch on an early morning fishing venture is your own ear. For all your mishaps and mistakes, we're here, helping you get back out there.
FastMed is faster and less expensive — some would even say better — than the emergency room if (or when) things go awry this fall. If we work out our broken heart stitch procedure, if we find a way to cure the ailments of love gone wrong, we'll let you know. In the meantime, trust us for your average cut or scrape.
About FastMed
FastMed Urgent Care owns and operates nearly 200 centers in North Carolina, Arizona and Texas that provide a broad range of acute/episodic and preventive healthcare services 365 days a year. FastMed also provides workers' compensation and other occupational health services at all its centers, and family and sports medicine services at select locations. FastMed has successfully treated more than six million patients and is the only independent urgent care operator in North Carolina, Arizona and Texas to be awarded The Joint Commission's Gold Seal of Approval® for quality, safety and infection control in ambulatory healthcare. For more information about locations, services, hours of operation, insurance and prices, visit www.fastmed.com.