Whooping Cough: Symptoms, Diagnosis, Treatment
Whooping cough is also known as pertussis. It's an upper respiratory infection characterized by coughing spells that can make it difficult to breathe and may lead to other potentially harmful symptoms. Whooping cough is caused by bacteria that invades the throat, and it's very contagious. Fluid from inside your throat and mouth are released into the air when you cough, and people who breathe this air or get any fluid on their skin can easily contract whooping cough.
Whooping cough is most often diagnosed through a patient exam. Lab tests or a chest X-ray may also be recommended. Urgent Care clinics are equipped with on-site labs and X-rays, so you won't have to wait for a diagnosis and treatment to begin.
Whooping Cough is Nothing to Whoop About
Pertussis vaccinations can help people avoid catching whooping cough. If you still contract whooping cough, you need to know how to recognize the symptoms so you can seek treatment. The symptoms of whooping cough are often hard to manage and will probably make normal daily functioning very difficult, if not impossible. Which symptoms you exhibit will likely depend on a few factors, including how long it's been since you were exposed to whooping cough and your age. They include: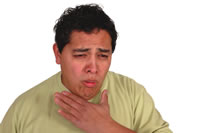 Symptoms of a cold, such as nasal problems or a low-grade fever (occur after seven days)
Coughing (occur after ten to twelve days)
A whoop noise following a coughing spell (common in children over six months old)
Vomiting after a coughing spell
Loss of consciousness after a coughing spell
Possible choking or not breathing for significant periods of time (common in infants)
Diarrhea
A medical professional will most likely recommend antibiotics as part of a treatment plan. Antibiotics are more effective if you're diagnosed in the earlier stages of whooping cough. Cough suppressants may sound like a good idea, but unfortunately, they won't help relieve your symptoms and should not be used to treat whooping cough. In extreme cases, hospitalization or sedation may be required, especially with infants and young children.
You should seek emergency medical attention if you experience seizures, consistent vomiting, a high fever, dehydration, or lack of oxygen, which may cause your skin to turn blue. Not breathing for significant periods of time should also prompt emergency medical attention.
When you or someone you're caring for is suffering from whooping cough or would like to find out more about the pertussis vaccination, it can be difficult to get the medical care you need without infecting others. This is because emergency room visits or visits to your health care provider often involve long waiting periods. Not at FastMed Urgent Care. It's our goal to get you in and out within an hour. Plus, you can use ZipPass to find an available check-in time and shorten the time you have to wait to see a medical professional.
We encourage you to learn more about FastMed by following us on Facebook.