Whooping Cough: Contagious & Dangerous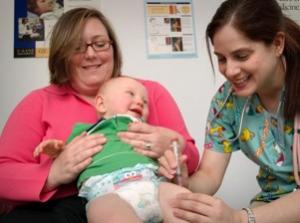 The best way to avoid whooping cough is to make sure you're vaccinated against it. According to the Center for Disease Control, there are vaccinations for infants, children, preteens, teenagers and adults.  Whooping cough, or pertussis, is a respiratory illness caused by bacteria that attaches itself to the cilia (tiny hairs) that line the nose. Whooping cough is so named because the disease can cause rapid and violent coughing fits, forcing the air out of the lungs and causing the patient to inhale with a loud "whoop."  Whooping cough can present as a common cold with symptoms lasting one to two weeks before it progresses to the ongoing coughing fits that exhaust patients due to extremity. 
Infants are at the highest risk for severe complications from whooping cough. Among babies younger than twelve months who get whooping cough, about half end up being hospitalized. It is very important that families with an infant take great care to protect the baby from exposure. Unfortunately, whooping cough can be spread during the early stages when it appears to just be a cold. Please do not let anyone who is sneezing or coughing hold, feed, or handle your baby. 
Whooping Cough: Treatment and Vaccination
At the FastMed Urgent Care clinic near you, you or your child can get tested for whooping cough. If you have the bacteria, you could be treated with antibiotics. We have on-site labs at all FastMed Urgent Care clinics, so we get your test results back quickly. We're open 365 days of the year and take most major forms of insurance.  Just as importantly, FastMed Urgent Care clinics can vaccinate you and your family against whooping cough.  Getting vaccinated against whooping cough is highly recommended and is found to be 80% to 90% effective in preventing the disease. Please come to FastMed Urgent Care at the first sign of whooping cough, and keep your baby away from anyone who appears to have a cold.
Related Articles:
Child Health Resource Center | Ear Infection | Protect Yourself From Norovirus | Poison Ivy Treatment