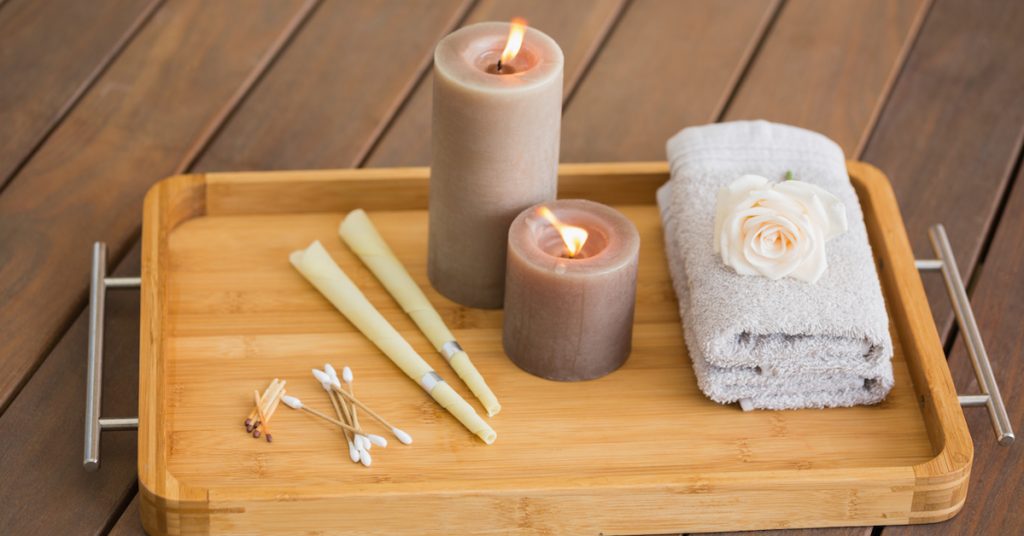 Although earwax is not a pleasant subject, the yellowish, waxy substance actually serves a purpose. It protects the delicate lining of the ear canal, helps to keep the canal clean and lubricated, and even provides some protection against bacteria and other harmful organisms. Unfortunately, earwax can build up within the ear canal and press against the eardrum or other structures of the ear, which can cause discomfort, mild dizziness, ringing in the ears, and other symptoms. When faced with this problem, many people look to over-the-counter remedies, such as earwax removal candles, to try to alleviate the problem. Our FastMed Urgent Care medical professionals decided to take a closer look at ear candling and answer these commonly asked questions:
What is the candle wax ear treatment?
Ear candling—does it work?
Is ear candling safe?
What is the best way to remove earwax?
What Is the Candle Wax Ear Treatment?
Ear candles are hollow, fabric cones that are soaked in a paraffin or wax substance similar to traditional candles. Earwax removal candles are typically about 10 inches long and relatively inexpensive. The treatment involves sticking the candle through a hole in a paper plate so that ash and wax do not fall on you once the candle is lit. As you lie on your side, another person lights the candle, places it in the ear canal, and allows it to burn for approximately 15 minutes. The process is then repeated for the other ear. The theories behind the process are that lighting the ear candling wax results in a suction force that pulls the wax and debris out of the ear canal or that the heat from the candle softens the earwax so that it can fall out naturally over the next couple of days.
Ear Candling—Does it Work?
At this time, there is no scientific evidence to support that ear candling wax results in any earwax being removed from the ear canal. Proponents of ear candles argue that all of the various passages within the ear and head are connected and that using the candles essentially cleans out the head. This is simply not anatomically correct, since there are solid barriers, such as the eardrums, within the passages.
Proponents also argue that ear candling wax results can be seen when you split open the candle. Laboratory studies show that the "debris" inside the candle is nothing more than burnt wax and fabric from the candle. In fact, this same debris can be found in candles that were never near an ear.
Earwax, especially when it has been compressed through the use of cotton swabs, is very hard and sticky. Ear candles produce little, if any, suction force, so there is no way for them to "pull" the wax out of the ear. The candles also don't generate the amount of heat necessary to melt the wax.
Is Ear Candling Safe?
At best, ear candles are ineffective. At worst, they can result in serious injury. Obviously, it is never a good idea to have a flame or molten wax anywhere near your face, since they can cause serious burns. It is also possible for some of the melted wax to drip into the ear and block the ear canal resulting in temporary hearing loss. Inserting the candle into the ear can also push the wax deeper into the ear canal or even puncture the eardrum. At this time, the U.S. Food and Drug Administration has not approved ear candles as a treatment for earwax impactions.
What Is the Best Way to Remove Earwax?
You can start by placing a few drops of an over-the-counter wax softener or a mixture of water and hydrogen peroxide into the affected ear and letting it sit for a few minutes. You can then use a bulb syringe and warm water to flush out the softened wax. As you attempt to flush the ear, tilt your head slightly and pull down on your earlobe. You should take care not to push the syringe into the ear canal to avoid damaging the eardrum. You also should never attempt to remove earwax using cotton swabs or sharp objects. If the above technique does not work, visit a doctor at your nearest FastMed clinic for an ear lavage. If necessary, the doctor can also use a small device called a curette to pull out the impacted wax; however, this should only be performed by a doctor.
Whether you have an earwax impaction or an ear infection, FastMed is ready to help. With more than 100 locations throughout Arizona, Texas, and North Carolina, a FastMed Urgent Care clinic is never far away. We are open seven days a week, and you never need an appointment.
About FastMed
FastMed Urgent Care owns and operates nearly 200 centers in North Carolina, Arizona and Texas that provide a broad range of acute/episodic and preventive healthcare services 365 days a year. FastMed also provides workers' compensation and other occupational health services at all its centers, and family and sports medicine services at select locations. FastMed has successfully treated more than six million patients and is the only independent urgent care operator in North Carolina, Arizona and Texas to be awarded The Joint Commission's Gold Seal of Approval® for quality, safety and infection control in ambulatory healthcare. For more information about locations, services, hours of operation, insurance and prices, visit www.fastmed.com.