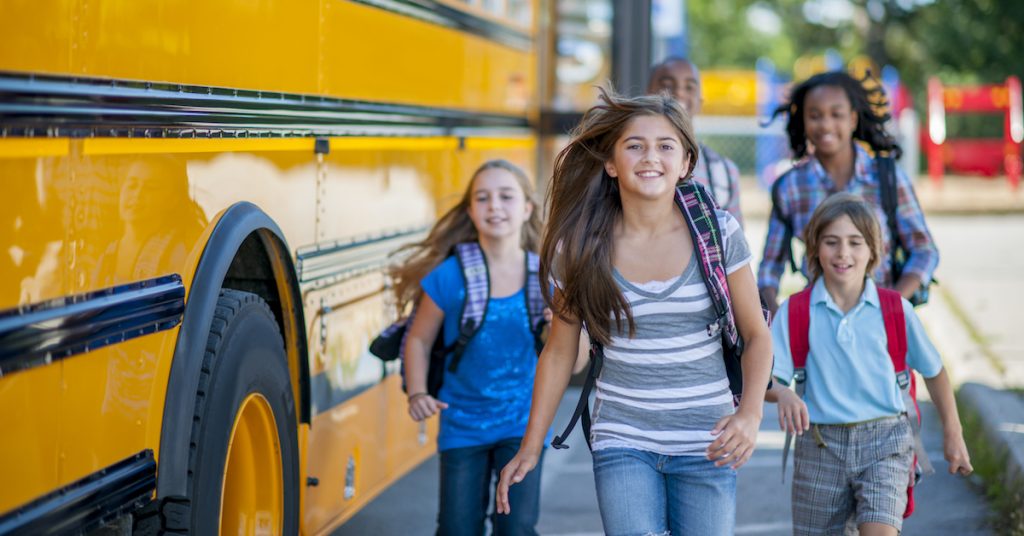 The lazy, hazy days of summer are coming to a close. That means that millions of students across the country will be grabbing their backpacks and heading back to class. While much of your time may be devoted to helping your young scholars gather up all the necessary school supplies and the perfect back-to-school wardrobe, you should also take a moment to make sure that your children also have any required physicals and are up-to-date on their vaccines. The following tips from FastMed will help you create a health and safety checklist for schools and childcare providers and provide you with basic health tips for children of all ages.
The Importance of Back-to-School Physical Exams
Before returning to school, a physical exam may be required to identify any health or developmental issues that could impact their ability to perform well in the classroom. If so, this is the perfect time for parents to discuss any concerns they may have regarding their child's health and development, but more importantly to verify that all immunizations are up-to-date, and to re-evaluate the child's emergency treatment plan for any chronic health conditions, such as asthma, allergies, or diabetes.
What Type of School Physicals Should Your Child Have?
If your child participates in sports, the provider will perform the relevant exam including muscle and joint function and the status of any old sports injuries to make sure your child is prepared to take part in the upcoming season. It is best to schedule the physical several weeks before school starts in case there is any follow-up needed. FastMed also recommends scheduling your child for a vision screening and dental exam.
Creating a Health and Safety Checklist for Schools and Childcare Providers
Parents should take the following steps to ensure that schools and childcare providers are ready to cope with any health emergency that may occur:
Make sure that your child's medical history and emergency contact information is complete. Provide a copy of the information to the school nurse and anyone else who may be responsible for your child's medical care.
Make sure that the school nurse and childcare providers have a consent-to-treat form in case your child needs emergency medical treatment and you cannot be reached.
Work with your child's primary care provider to create an action plan for asthma, food allergies, and other health issues, and provide a copy of that plan to the school nurse or childcare provider.
Miscellaneous Safety and Health Tips for Children
If your child walks or takes the bus to school, you also need to consider their safety getting to and from school. The following safety and health tips for children can be modified based on your specific situation and your child's age and development level:
Rehearse a family emergency plan in case something should happen on the way to or from school.
With young children, do a dry run so that the child knows the route, and establish specific drop-off and pickup procedures.
According to the National Safety Council, school buses are the safest way for students to travel, but children also need to do their part to stay alert and aware of their surroundings to prevent injury. When waiting for the bus, stay away from traffic and avoid roughhousing or other distracting behavior. When boarding and exiting the bus always use the handrails, While riding the bus, buckle up if seat belts are available, never put your head, arms, or hands out the window, and always remain seated. When getting off the bus, if you have to cross in front of the bus, first walk at least 10 feet ahead until you can see the driver, and when the bus driver signals, look left, right, then left again before crossing.
Advise children under the age of 10 to only cross the street with an adult since they may not have the ability to accurately judge the speed and distance of oncoming traffic.
Make sure that children understand the importance of looking both ways when crossing.
Teach children to walk on sidewalks and paths when possible and to only cross streets at corners or designated crosswalks. If there are no sidewalks, children should walk facing the oncoming traffic and as far to the left as possible.
Remind children, especially teens, that they should never attempt to cross the street while wearing headphones or looking at their phone.
If you have a teenager who will be driving to school, set aside time for a conversation about safe driving habits and what to do in the event of accidents or other roadside emergencies. Set clear guidelines with respect to where they can drive, who they can have as passengers, and how many passengers they can have at a given time.
FastMed: Your Partner in Back-to-School Health
Completing your child's back-to-school health checklist is easy with FastMed. We have convenient locations throughout Arizona, Texas, and North Carolina that are open seven days a week to suit your busy schedule. We even offer online appointment scheduling and tablet-based registration and check-in to keep your wait time as short as possible. In addition to our urgent care services, our family medicine providers also offer sports and school physicals, immunization reviews, and other services to ensure that your child is ready for the school year. Call or go online today to schedule school physicals for your children.
About FastMed
FastMed Urgent Care owns and operates nearly 200 centers in North Carolina, Arizona and Texas that provide a broad range of acute/episodic and preventive healthcare services 365 days a year. FastMed also provides workers' compensation and other occupational health services at all its centers, and family and sports medicine services at select locations. FastMed has successfully treated more than six million patients and is the only independent urgent care operator in North Carolina, Arizona and Texas to be awarded The Joint Commission's Gold Seal of Approval® for quality, safety and infection control in ambulatory healthcare. For more information about locations, services, hours of operation, insurance and prices, visit www.fastmed.com.