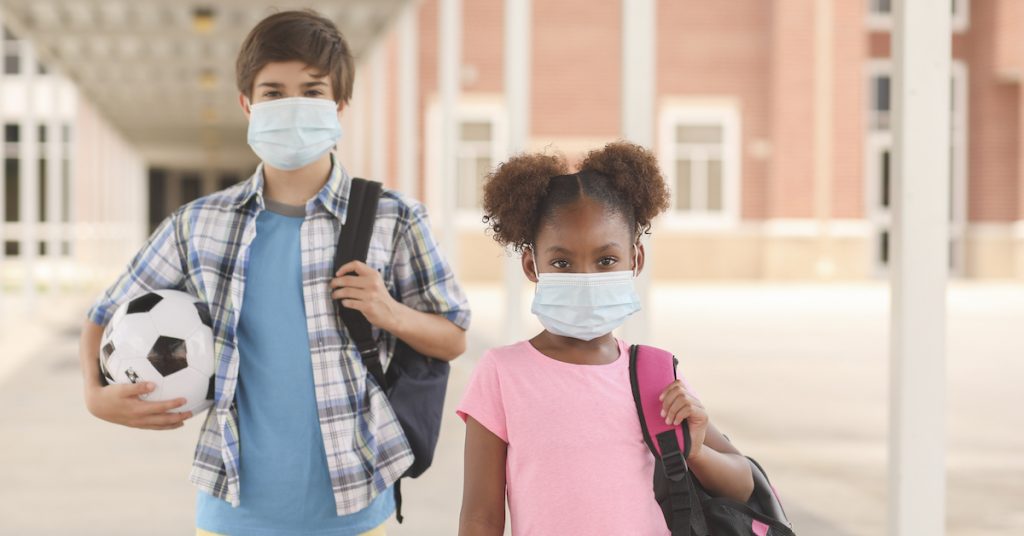 This year, going back to school will definitely be different from previous years. How different depends on your child's school district, but almost all districts will offer some form of modified in-classroom learning, virtual learning, or a combination of both.
To protect the health of your child and to prepare students for the changes, we've put together a list of COVID-19 back-to-school guidelines covering both in-school learning and virtual learning. For families with students participating in a hybrid learning model, we recommend reading both sets of guidelines.
COVID-19 Tips for Students in the Classroom
For the health and safety of your children, it's important to prepare them for this new and unfamiliar in-class experience. Unlike previous school years, students may be grouped in pods or cohorts that remain together throughout the day.
In some classrooms, desks may be spaced a safe distance apart, and students may eat lunch in the classroom, instead of the cafeteria. In addition to providing the usual classroom lectures, teachers may offer guidance about COVID-19 prevention and encourage students to take appropriate precautions.
What to Do Before Returning to Class
Before the school year begins, it can be helpful to make a COVID-19 checklist for school to make certain your kids are prepared. Teach them proper hand-washing techniques and stress the importance of wearing a cloth face covering to protect others. They will also need to be up to date on all required vaccines, including Influenza.
Here are some COVID-19 tips for students to follow throughout the school year—before, during, and after class:
What to Do Before and After School
As part of your COVID-19 back-to-school checklist, include daily routines to follow before the school day begins and after it ends. Before school, include packing items such as hand sanitizer and a back-up face covering. You may also want to include a resealable plastic bag for stashing face coverings when not in use, such as while eating.
After school, children should immediately wash their hands. This is also a good time to wash worn face coverings. Make sure you have multiples to cover each child's needs, and that all face coverings comply with school guidelines.
COVID-19 Tips for Students During Class
Children should be cautioned about sharing objects such as water bottles, electronic devices, books, and writing tools. Encourage your child to regularly wash his/her hands or use a hand sanitizer with an alcohol content of 60% or above. For their safety, avoid FDA-recalled sanitizers containing dangerous levels of methanol.
Consult COVID-19 School Guidelines regarding when and where face masks must be worn and make sure your children understand the rules. Keep in mind, face masks should not be worn by:
Children under 2 years of age
Those with poorly-controlled asthma and cannot tolerate wearing a mask
Those unable to remove a mask
How to Protect Your Child During Transport to and from School:
If your children take the bus to school, make sure they are prepared for and understand the importance of new requirements, such as seat spacing and wearing masks. If your child carpools and the school uses a cohort system, try to arrange rides with someone in the same pod. Again, face masks should be worn on the way to and from school, as well as during school activities.
It's also a good idea to limit out-of-school activities to students within the same pod and to practice social distancing while at recess and during other physical activities. Check with your school regarding any additional rules that should be followed.
What Should I Do If My Child Becomes Ill?
Make sure your child understands the importance of letting an adult know if they feel ill while attending school. It's also a good idea to update your contact list. You may want to replace anyone at high risk for contracting COVID-19.
Develop a plan for possible school closures or a two-week quarantine, in advance. This way you will be prepared for teleworking, work leave, or appropriate child care, if necessary.
Be sure to monitor your children daily and keep kids at home if they have had contact with a known case of COVID-19, or if they experience any of the following symptoms:
Coughing
Diarrhea
Vomiting
Severe headache
Body aches
Fever
Find out who to contact at the school if your child becomes ill. Your local FastMed clinic can help with testing to confirm whether or not your child has contracted COVID-19.
COVID-19 Back-to-School Guidelines for Virtual Learning
If your child will be learning remotely, it's important to properly prepare. Create a schedule and make sure your child sticks to a routine. Designate a space for school work that is free from distractions, clutter, and noise. It's also helpful to know whether class instruction will be pre-recorded or offered in real-time.
Check with your child's school to see whether options exist for peer-to-peer learning. It's important to have a plan in place to encourage social interaction. If contact will be made in-person rather than virtually, however, make sure proper distancing guidelines are observed.
Other items on your COVID-19 back-to-school checklist should include learning what counseling or support groups the school offers, how programs such as IEP, behavioral groups, and meal plans will be handled, if applicable, and whether the school offer options for physical activity.
How to Protect Your Child's Emotional Health
Although a virtual classroom may provide greater safety from COVID-19 infection, the resulting isolation can pose risks to your child's emotional wellbeing. It's important to regularly monitor children for any signs of emotional distress, including
Difficulty concentrating
Feelings of sadness, irritation, or anxiety
Changes in eating or sleeping habits
Know Where to Find Help, When Needed
Make certain you know what systems are in place to help your child adjust to this new learning experience. Check with your child's school for available resources.
Where You Can Find COVID-19 Testing and Urgent Care
If you think you may have COVID-19 or have had the virus previously, FastMed can provide the testing you need. To schedule diagnostic or antibody testing, visit your local FastMed Urgent Care. If you have other urgent care needs but wish to avoid visiting a clinic in-person, consider scheduling a telemedicine visit. Please review the list of symptoms currently being treated via telemedicine prior to scheduling your appointment by clicking here.
More Information About COVID-19
FastMed strives to ensure that we're not only caring for our community but also keeping them educated on the latest health updates. Please visit our COVID-19 Resources page to learn more about the virus, commonly asked questions, updates specific to your state, and CDC recommendations. To read more about the information from your specific state, please see below:
About FastMed
FastMed Urgent Care owns and operates nearly 200 centers in North Carolina, Arizona and Texas that provide a broad range of acute/episodic and preventive healthcare services 365 days a year. FastMed also provides workers' compensation and other occupational health services at all its centers, and family and sports medicine services at select locations. FastMed has successfully treated more than six million patients and is the only independent urgent care operator in North Carolina, Arizona and Texas to be awarded The Joint Commission's Gold Seal of Approval® for quality, safety and infection control in ambulatory healthcare. For more information about locations, services, hours of operation, insurance and prices, visit www.fastmed.com.