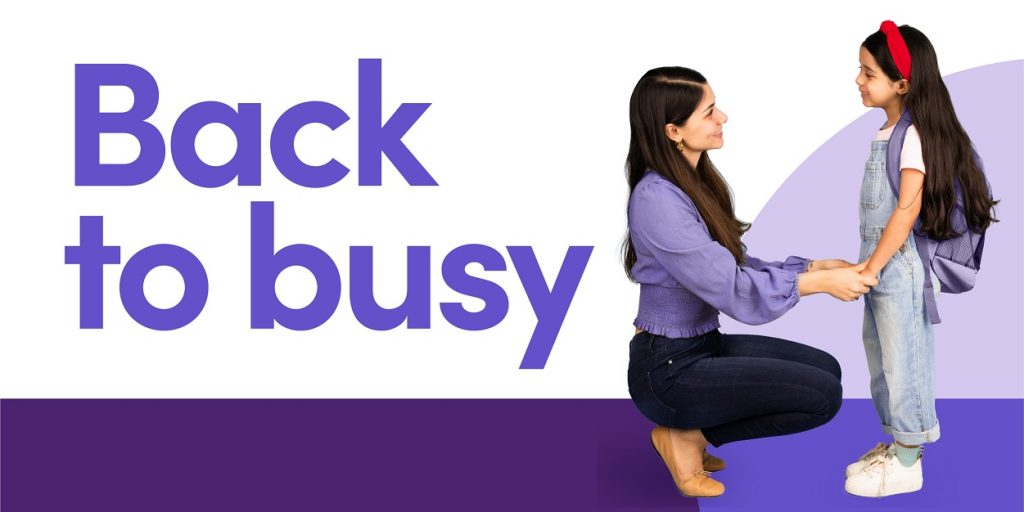 As kids head back to school, FastMed wants to help make getting "back to busy" as healthy as possible for you and your family.
From creating well-balanced school lunches to taking advantage of the physical, social, and emotional benefits of school sports, back-to-school time brings many opportunities to create healthier routines. FastMed is here to support you every step of the way.
Preparing for school – are school lunches healthy?
Thankfully, the days of old-style lunches with mostly fried foods are a thing of the past. By the early 1990s, federal guidelines limited school lunches to no more than 30% of a child's daily requirement of fat or 10% of saturated fat. Today's school lunches must provide at least one-third of a child's daily requirements of protein and vitamins. Yet even with salad bars, an array of fruits and vegetables, and other healthier choices available, some kids still turn to vending machines and junk food at lunch time.
How to make school lunches healthier
Healthy eating habits begin at home, including proper portion sizes. Restaurant portions and food packaging have skewed our perception about serving sizes, and kids are no exception. We may know what kinds of foods to choose for healthier meals, but many of us don't know how much we should eat – and we're all likely to eat more when we have bigger portions on our plate.
The U.S. Department of Agriculture (USDA) now uses the MyPlate tool in place of the food pyramid to show what a healthy meal looks like. Half of the plate should be fruits and vegetables (preferably non-starchy ones, like broccoli, cauliflower, carrots, lettuce, spinach, and others). Grains fill one-fourth of the plate – brown rice, whole-wheat pasta, and whole-wheat tortillas are ideal choices. The remaining one-fourth of the plate is for proteins, such as chicken (without the skin), turkey, seafood, or lean cuts of beef or pork. Vegetarian options include beans or soy.
Encourage your child to follow these guidelines when selecting their meals at school. Do they bring a packed lunch from home instead? Even better! Planning ahead, pre-packing meals to avoid the morning rush, and having healthy foods on hand at home are excellent ways to improve your child's nutrition. Drinking plenty of water is important to stay healthy and hydrated. And remember to keep sugar to a minimum!
How school sports benefit students
In addition to eating well, keeping kids active and on the go also greatly benefits their health. School sports often fit the bill perfectly. Mayo Clinic confirms that participating in sports has many physical health benefits, such as improving cardiovascular health and preventing obesity. But playing sports offers many social and emotional benefits as well, from making friends and working as a team to learning how to win and lose gracefully.
Research also suggests that children who participate in sports perform better at school. Physical activity enhances a child's thinking skills by increasing blood and oxygen flow to their brain, while triggering the release of feel-good hormones like endorphins. Winning on the field or on the court can be a major win for their health as well!
Of course, if your child plays sports and things don't go as planned, skip the ER and head to your nearest FastMed urgent care for immediate, high-quality care. We treat ankle sprains, groin injuries, hamstring strains, knee injuries, shin splints, tennis elbow, plantar fasciitis, asthma attacks, and many other types of sports injuries.
Start the school year off right – visit FastMed for a physical
Students may need to get their school or sports physical before the any new sports year begins. Many FastMed locations are open today, right in your neighborhood, many with extended hours. We make getting physicals convenient and easy, with no appointment required. You're also welcome to schedule your visit online to reduce your wait time, if preferred.
Find a FastMed Clinic Near You
The first school bell will be ringing soon, and then it's time to get back to busy! Are you ready?
FastMed is here whenever you need us, with extended hours on weekdays, weekends, and most holidays to serve you. Visit one of our family-friendly locations today.
About FastMed
FastMed is one of the nation's largest urgent care providers, with 100+ locations in Arizona, Florida, and North Carolina. FastMed provides a broad range of acute/episodic, preventive, and occupational healthcare – in its clinics and via telemedicine – as well as family medicine at select locations. FastMed is one of the few urgent care providers in the nation that has earned The Joint Commission's coveted Gold Seal of Approval® for quality, safety and infection control in ambulatory healthcare. For more information, visit www.fastmed.com.