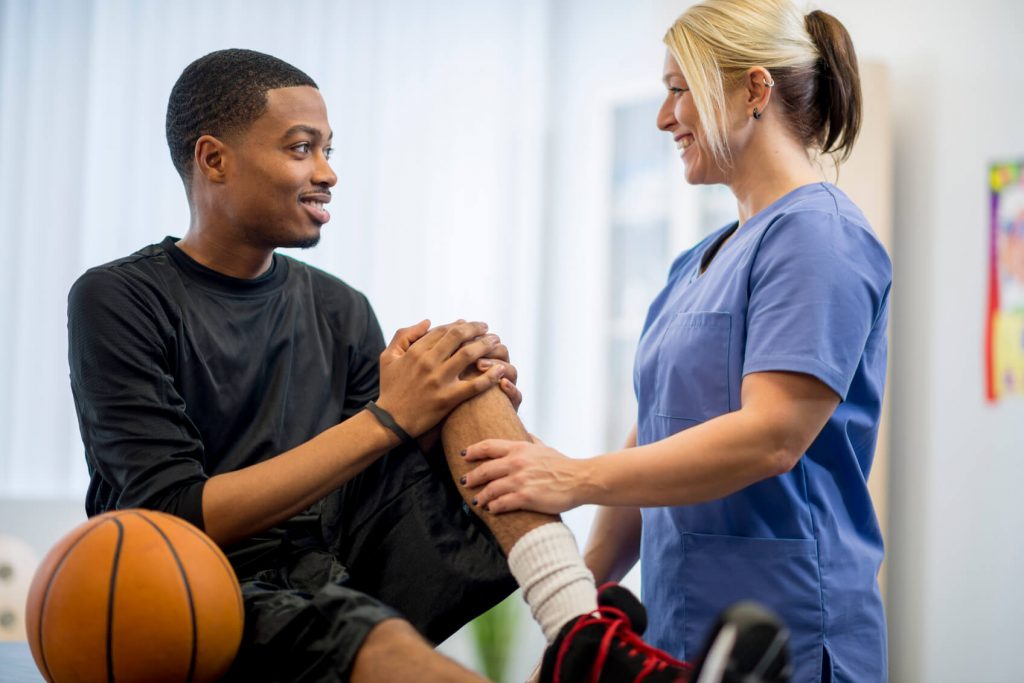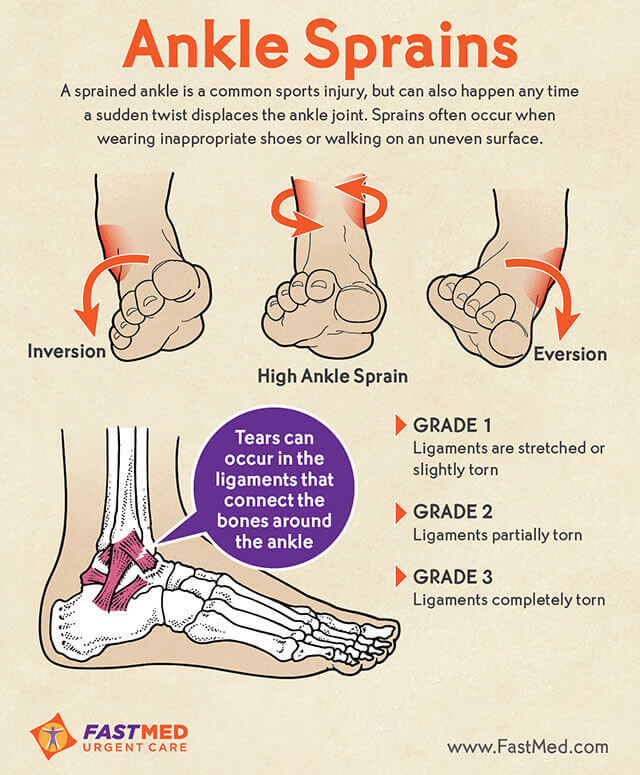 A sprained ankle is a common sports injury, but can also happen any time a sudden twist displaces the ankle joint. Sprains often occur when wearing inappropriate shoes or walking on an uneven surface. According to the American Orthopaedic Foot & Ankle Society, 25,000 people are treated for ankle sprains every day.
3 Types of Ankle Sprains
Inversion – when you sprain your ankle on the pinky toe side of the ankle.
Eversion – when a sprain is on the big toe side of the ankle
High ankle sprain – affects the upper part of the ankle between the foot and the shin.
How Severe is Your Ankle Sprain?
Ankle sprains are categorized into grades that define the severity of the injury.
A Grade 1 ankle sprain is characterized by ligaments that are stretched or slightly torn. Though there may be some tenderness and swelling, you should be able to put your weight on the foot without too much pain.
A Grade 2 ankle sprain means that the ligament is severely, but not completely torn. Swelling and accompanying pain is more pronounced, to the point that you may not be able to put your weight down on the foot.
A Grade 3 ankle sprain constitutes a complete tear of the ligament. Swelling and pain is likely to be severe and you won't be able to put your weight down the foot.
Common Symptoms of an Ankle Sprain
Ankle Pain
Swelling of the Ankle
Possible Bruising
Redness
Warmth
Treating Your Sprained Ankle
If you have an ankle sprain, you should keep it elevated on a pillow and try to stay off of it as much as possible. A cold compress can help to reduce swelling. You may take medicines such as aspirin or ibuprofen, but if pain does not improve after 5 to 7 days, you could have a more serious injury such as a fractured or broken bone.
If you have a painful ankle sprain, come to your local FastMed Urgent Care for an examination so we can help determine the grade of the sprain and the right course of treatment to get you back on your feet in no time!
About FastMed
FastMed Urgent Care owns and operates nearly 200 centers in North Carolina, Arizona and Texas that provide a broad range of acute/episodic and preventive healthcare services 365 days a year. FastMed also provides workers' compensation and other occupational health services at all its centers, and family and sports medicine services at select locations. FastMed has successfully treated more than six million patients and is the only independent urgent care operator in North Carolina, Arizona and Texas to be awarded The Joint Commission's Gold Seal of Approval® for quality, safety and infection control in ambulatory healthcare. For more information about locations, services, hours of operation, insurance and prices, visit www.fastmed.com.