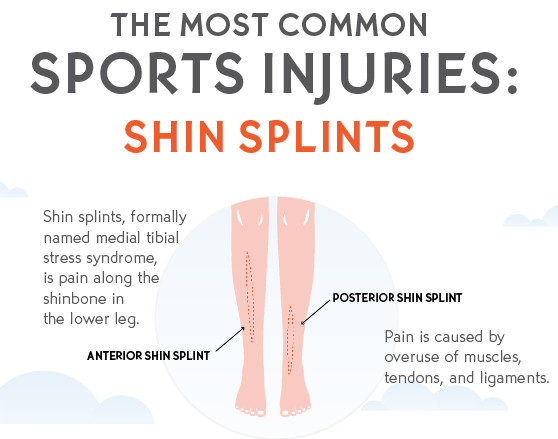 The formal name for pain along the shinbone in your lower leg is medial tibial stress syndrome — in other words, shin splints. This painful condition has sidelined many an athlete, and if you're a runner, dancer, or someone else who asks quite a lot of your legs, it's probably happened to you. So what causes shin splints? And, more to the point — how do you fix the problem?
How do you know you have shin splints?
Do your lower legs hurt on impact? If the pain can't be explained by fractures, ripped tendons or muscles, bruising, or major injury, then shin splints might be the culprit. Symptoms of shin splints include tenderness, soreness, or pain along the inner part of the lower leg. Swelling in this area can also occur. Though shin splints usually occur in both legs at the same time, the dominant foot will typically be in more pain.
Shin splints happen most often to people involved in sports that cause percussive impact to the feet and legs. The condition isn't reserved for people training for a marathon, though; shin splints occur in kids and teens who play sports, and in adults who simply use their legs all the time.
However, while shin splints are quite common (about 3 million cases in the United States alone each year), shin pain does not necessarily mean you have shin splints. Press your finger into a few different places along your lower leg to see if you can locate a direct point of pain. If you can, this may be a sign of a stress fracture, and you need to have it checked out by a doctor.
What causes shin splints?
The pain associated with shin splints is caused by micro-tears of the muscle away from the bone. (Ouch!) It's a cry for help from overworked muscles, tendons and bone tissues. There's no single cause. Instead, many risk factors are associated with their development. Here are a few:
Overpronation, also called "flat feet." (If the inner sides of your shoes are disproportionately worn, you may be an overpronator.)
Inadequate stretching.
Using worn out shoes. (This is your excuse to go get a new pair of kicks!)
Excessive stress placed on one leg from using on cambered roads — roads that curve upward from the edge to the center.
Always running in the same direction on a track.
A recent change to or intensification of your training routine.
Rest. Always listen to your body, and avoid activities that cause the pain or discomfort until it subsides.
If you can't stop training, ice the affected area for 15 minutes at a time before you get out there. (Wrap the ice or icepack in a towel to avoid direct contact with the skin! Too much cold on the surface of the skin can cause nerve damage.)
Take an over-the-counter pain reliever such as ibuprofen or acetaminophen.
Stretch your calves and Achilles before and after every workout.
If you think you're feeling symptoms of shin splints, come on in to a FastMed near you! We can help you determine the cause of your pain, get you treated, and get you back out there in no time. You don't need an appointment; just sign in online or walk right in the door. We'll be looking forward to seeing you — and your shins!
About FastMed
FastMed Urgent Care owns and operates nearly 200 centers in North Carolina, Arizona and Texas that provide a broad range of acute/episodic and preventive healthcare services 365 days a year. FastMed also provides workers' compensation and other occupational health services at all its centers, and family and sports medicine services at select locations. FastMed has successfully treated more than six million patients and is the only independent urgent care operator in North Carolina, Arizona and Texas to be awarded The Joint Commission's Gold Seal of Approval® for quality, safety and infection control in ambulatory healthcare. For more information about locations, services, hours of operation, insurance and prices, visit www.fastmed.com.