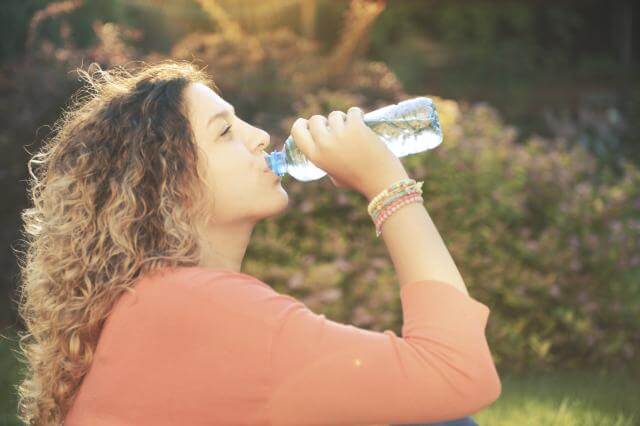 Most of us enjoy outdoor concerts in the summer: a band strums into the evening and we two-step, while little girls swirl in dresses and boys play tag in the lawn. It's one of many carefree escapes we look forward to when the winter is bitterly cold and the only dancing is a few quick, skittish hops across an icy drive, trying not to fall.
At FastMed, we believe in getting outside when it's warm, singing along as the fireflies flicker, and showing the kids what real music sounds like. We also support staying safe in the summer heat so you can dance until the sun goes down.
Dealing with heat exhaustion
You prepared for the heat. You wore the right clothes. You packed what you thought was enough water. You even scheduled breaks to escape the sunlight. But now your skin feels cool or clammy, you feel weak and dizzy, you're confused, have nausea or a headache, and the list goes on. It can be scary when heat exhaustion sets in, especially if you have children with you and you have to take care of them as well, knowing they've been out in the sun just like you. So if you feel yourself getting woozy at a summer concert, what are the steps to remember?
1. Find a cool place
Look for shade. Covered areas will allow you to take a break from the sun. If you are experiencing symptoms of heat syncope or exhaustion, get inside a cool air conditioned building immediately.
2. Drink cold water
You should be drinking water regularly throughout the day, but if you experience symptoms of heat exhaustion, pick up the hydration. Sports drinks will help you replenish valuable electrolytes, which your body loses when you are active outside.
3. Seek medical attention
You should seek medical evaluation and attention by a health care provider at a FastMed Urgent Care if you continue experiencing heat heat-related illness symptoms.
Alcohol and heat exhaustion
You're having a blast with your friends, the music is good, and what goes better with live music than a few adult beverages? Just keep in mind that a summer cocktail is fine as long as you're responsible and legal drinking age. If you're going to be in the heat, you need to be extra careful with alcohol.
Alcohol is a diuretic and causes dehydration, and we already know that dehydration can contribute to heat-related illness. You also have to be careful as alcohol may prevent your body from properly regulating its temperature. If you're intoxicated, you also may be less likely to pick up on heat-related symptoms. Such as not being able to determine if you are dizzy from exposure to the sun or dizzy from a few the beers.
If you are drinking alcohol outside in the summer, be sure to drink lots of water and pace yourself. It is very important to be extra smart with alcohol when the temperatures rise.
Keep an eye on the young and old
Young people need your help in avoiding heat-related illness. If you see kids experiencing the symptoms of heat exhaustion, get them inside immediately, remove extra clothing, and try to cool them down. The elderly are also at a heightened risk of heat-related illness. According to studies, heat-related fatalities are skewed toward individuals over the age of 65. This shows us that the more vulnerable people of our society, those at either end of the age spectrum, are more susceptible to heat.
Stick with FastMed, and keep the sounds of summer going
When the sun is out and the tunes are on, pay attention to your body. If you have many or severe heat symptoms, get inside quickly. FastMed Urgent Care clinics are open 365 days a year for walk-in treatment to help you get back on the dance floor — even if we hope you never need us.
About FastMed
FastMed Urgent Care owns and operates nearly 200 centers in North Carolina, Arizona and Texas that provide a broad range of acute/episodic and preventive healthcare services 365 days a year. FastMed also provides workers' compensation and other occupational health services at all its centers, and family and sports medicine services at select locations. FastMed has successfully treated more than six million patients and is the only independent urgent care operator in North Carolina, Arizona and Texas to be awarded The Joint Commission's Gold Seal of Approval® for quality, safety and infection control in ambulatory healthcare. For more information about locations, services, hours of operation, insurance and prices, visit www.fastmed.com.