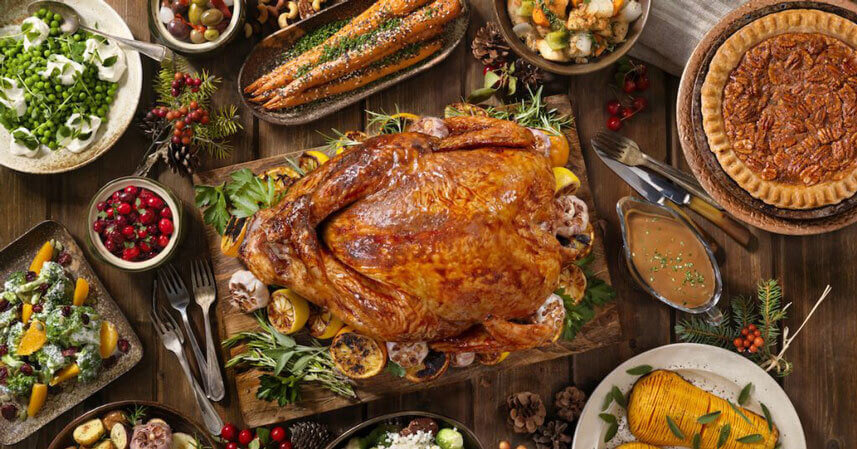 From the turkey, dressing, and green bean casserole to the sweet potatoes and pumpkin pie, it is easy to understand why we look forward to the Thanksgiving meal all year long. While delicious, this indulgence can also pack on the pounds. In fact, the average person eats approximately 3,000 calories and 229 grams of fat during a traditional Thanksgiving meal. For reference, the U.S. Food and Drug Administration recommends adults eat no more than 2,000 to 2,500 calories per day with no more than 65 to 80 grams of total fat. The following guide will help you plan a healthy Thanksgiving dinner menu that won't leave your guests feeling disappointed.
Planning a Healthy Thanksgiving Menu
When planning your healthy Thanksgiving dinner menu, remember to be realistic and focus on the goal of weight maintenance rather than weight loss.
Ideas for Low-fat Thanksgiving Side Dishes
Having plenty of low-fat Thanksgiving side dishes available can help you avoid the temptation to load your plate up with huge mounds of fat-filled sides. When constructing your healthy Thanksgiving menu, look for ways to put a healthier spin on traditional dishes. For example:
Serve a large salad that includes a variety of dark, leafy greens.
Instead of mashed potatoes, serve roasted turnips or sautéed collards, spinach, or chard.
Swap out the traditional green bean casserole for sautéed green beans topped with toasted almonds and a touch of fresh lemon juice.
Roast your yams or sweet potatoes instead of serving them candied or in a casserole topped with marshmallows.
Ideas for Heart-Healthy Thanksgiving Recipes
If you or a loved one has high blood pressure or heart disease, try to opt for low-sodium and low- cholesterol, heart-healthy Thanksgiving recipes and ingredients. The following are some easy swaps that you can make when creating your healthy Thanksgiving menu that won't sacrifice flavor:
Use egg substitute in place of traditional eggs.
Opt for low-fat or reduced-fat dairy products.
Choose fat-free soups.
Choose soups and broths that are reduced-sodium or that have no salt added so that you can control the salt content.
Use olive oil or nonfat cooking spray instead of butter or margarine.
Flavor your turkey with an herb rub instead of butter to lower the fat content of your healthy Thanksgiving dinner.
Benefits of a Traditional Thanksgiving Dinner
Although a healthy Thanksgiving dinner may keep you from having to spend extra time at the gym working off all those extra calories, even a traditional Thanksgiving meal has the following health benefits:
Just 5 ounces of turkey provides you with 40 grams of protein and half of your daily requirement for folic acid. Folic acid is especially important for women who are pregnant or who may become pregnant since it can help prevent neural tube defects, such as spina bifida.
A 5-ounce serving of mashed potatoes contains 22 percent of the recommended daily allowance of vitamin C.
Green bean casserole is rich in iron and calcium.
You can get more than 100 percent of the recommended daily allowance of vitamin A with a half-cup serving of sweet potatoes with skin intact.
Cranberry sauce and wine both contain antioxidants that can help you fight infections, lower your cholesterol, and prevent blood clots.
A slice of pumpkin pie, equal to one-eighth of a 9-inch pie, contains just over 2 grams of fiber and 5 grams of protein.
Post Meal Tips:
Instead of taking a nap in front of the TV after eating your healthy Thanksgiving dinner, make it a family tradition to engage in some sort of physical activity, such as a round of touch football in the backyard or a walk around the block.
It is not unusual to experience some nausea or even diarrhea after you overindulge in food or alcohol or deviate from your normal dietary pattern. In most cases, the symptoms will lessen as you digest your meal. If the symptoms persist or worsen, it may be a sign of food poisoning, a gastrointestinal virus, an ulcer, or another problem with the digestive system. If you should experience these types of symptoms, you should see a medical professional as soon as possible for diagnosis and treatment.
The FastMed family would like to wish you and your family a happy and healthy Thanksgiving. Our clinics are also open seven days a week, 365 days a year, including holidays, to serve you. We have convenient locations located throughout Arizona, Texas, and North Carolina, so the help that you need is always nearby. We also offer online registration and check in so that we can get you back to your family and holiday activities as soon as possible.
About FastMed
FastMed Urgent Care owns and operates nearly 200 centers in North Carolina, Arizona and Texas that provide a broad range of acute/episodic and preventive healthcare services 365 days a year. FastMed also provides workers' compensation and other occupational health services at all its centers, and family and sports medicine services at select locations. FastMed has successfully treated more than six million patients and is the only independent urgent care operator in North Carolina, Arizona and Texas to be awarded The Joint Commission's Gold Seal of Approval® for quality, safety and infection control in ambulatory healthcare. For more information about locations, services, hours of operation, insurance and prices, visit www.fastmed.com.