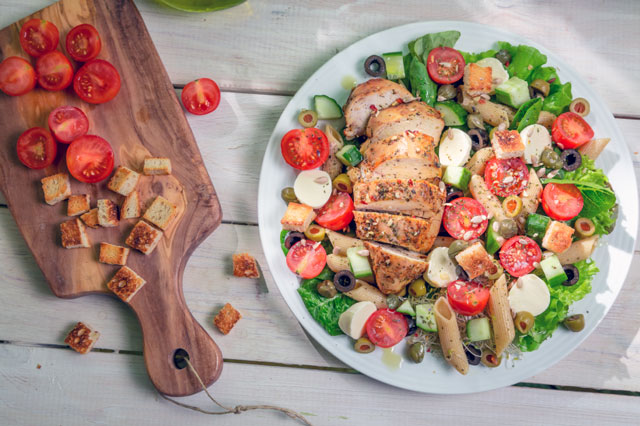 There's no substitute for good old-fashioned exercise when you want to lose weight, but billions of dollars a year are spent on diet beverages, diet books, weight coaches, and other accoutrements to help people reach their weight goals. One of the most well-known diets is the Atkins diet, created by Dr. Robert Atkins. Here, FastMed reviews the Atkins diet, so you can make an educated decision about whether it's right for you.
The Theory
The body uses the carbohydrates and sugar you consume to burn energy. When you cut back on carbohydrates, the body burns fat instead. This is called ketosis, because ketones are produced when the body uses fat rather than carbohydrates for energy. Atkins believed that it takes more energy to burn fat, so you expend more calories when you're in ketosis, but some research shows that this may not be the case, and that the positive results could be partially due to the fact that ketosis naturally suppresses the appetite.
The Diet
There are four phases to the Atkins diet. The first phase (Kick-Start) is designed to help your body transition from using carbohydrates for energy to using fats. This phase lasts until you're within 15 pounds of your goal weight, or at least two weeks. During this phase, you'll eat between 18 and 22 grams of carbohydrates per day. For reference, that would be either one slice of multi-grain bread, one small apple, or two cups of skim milk.
The second phase (Balancing) slowly adds carbohydrates back into your diet, since eating only 18-22 grams of carbohydrates per day is not sustainable long term. In this stage, you follow the 'carb ladder' by slowly introducing healthy foods like nuts, berries, whole milk, and beans into your diet. Each week, you add 5 additional grams of carbohydrates to your daily total as you determine your personal carb balance.
The third phase is meant to 'fine-tune' your diet so you can eventually find something sustainable for the rest of your life. You remain in this phase until you have reached your goal weight and maintained it for a month. In phase 3, you continue to increase your carbohydrate intake as you introduce new foods from the carbohydrate ladder.
Phase 4 is Lifetime Maintenance. This is how you are supposed to eat for the rest of your life. It involves keeping a close eye on your weight and carbohydrate intake. If you begin to gain weight, you cut back on the carbohydrates until you're back at your goal.
The Research
Several studies have shown that obese people on a low-carbohydrate diet lose more weight than those on a low-fat diet. A low-carb diet can also significantly decrease certain cholesterol levels, including triglycerides. In one study, participants on a low-carb diet lost more weight and reported that they felt less hungry than subjects who were on a low-fat diet. Ketogenic diets (in which 80-90% of the calories come from fats) have demonstrated positive effects on the brain, and have even been used as treatment for epilepsy.
Criticism
Some scientists believe that the reason a low-carb diet works is because people replace the carbohydrates with protein, which makes one feel fuller and leads to a reduction in overall caloric intake. A one-year study in the New England Journal of Medicine notes that while subjects on a low-carb diet lost more weight than those on a low-calorie, low-fat diet, the difference wasn't significant after a year. It also points out that, without professional assistance, many people had trouble sticking to the diet and even gave up.
One of the biggest issues with research into the Atkins diet is that the definition of a low-carb diet varies widely. Lowering your carbohydrate intake will probably help you lose more weight than low-fat diets, but you'll want to make sure you're getting enough fiber and calcium. If you exercise quite a bit, this diet may not be for you, as your muscles need carbohydrates for fuel.
On the whole, the Atkins diet isn't a bad choice. It's difficult to stick with in the long term, however, and while it may help you to lose weight, you'll also want to make other healthy lifestyle changes, like moderate daily exercise.
Are you concerned about your weight? If you're thinking about starting a diet or weight loss program, talk to your doctor at FastMed Urgent Care. He or she will do a thorough checkup, and guide you to a weight loss plan that's right for you. Remember, even if the number on the scale doesn't change dramatically, you could still be making vast improvements to your cholesterol, blood pressure, and other important numbers. Your doctor can measure this data for you, so you can see the true effects of your dietary changes.
About FastMed
FastMed Urgent Care owns and operates nearly 200 centers in North Carolina, Arizona and Texas that provide a broad range of acute/episodic and preventive healthcare services 365 days a year. FastMed also provides workers' compensation and other occupational health services at all its centers, and family and sports medicine services at select locations. FastMed has successfully treated more than six million patients and is the only independent urgent care operator in North Carolina, Arizona and Texas to be awarded The Joint Commission's Gold Seal of Approval® for quality, safety and infection control in ambulatory healthcare. For more information about locations, services, hours of operation, insurance and prices, visit www.fastmed.com.