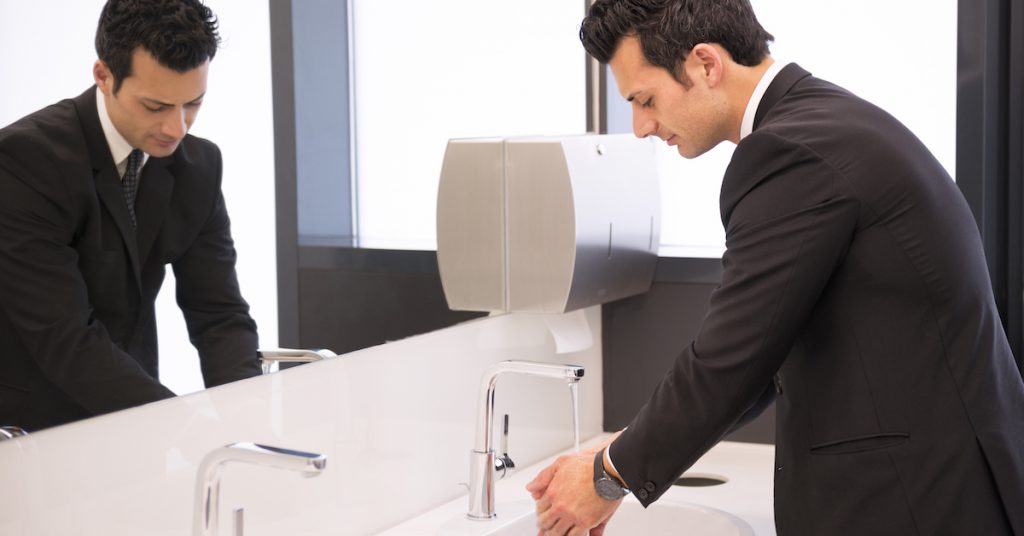 Flu season is fast approaching, so now is the time to get your annual flu vaccine and brush up on basic flu prevention techniques. The flu virus can spread rapidly in the crowded confines of a classroom or office; however, the following tips on how to prevent getting the flu at work or school can decrease your chances of becoming sidelined by the virus.
A Flu Shot Is Your Best Protection Against the Flu
Here at FastMed, we cannot stress enough that getting an annual flu shot is the best flu prevention tool available. The Centers for Disease Control and Prevention (CDC) recommends the flu vaccine for anyone over the age of six months. The vaccine does take about two weeks to become fully effective, so it is best to get your flu shot by the middle of October, before the peak of the season. Of course, a late vaccination is better than none at all. If you got the vaccine last year, you will need it again this year, because the effectiveness of the vaccine wears off with time. The influenza virus also mutates rapidly, so the vaccine has to be modified each year to be effective. It is also important to note that you cannot get the flu from the vaccine. The mild achiness or other symptoms that you may feel following the flu shot are simply your body's natural immune response and are not the same thing as the flu.
Basic Flu Prevention Techniques
The flu is a respiratory virus that is spread through aerosolized droplets when a person coughs or sneezes or by touching contaminated objects.
You should avoid close contact with individuals who are sick, and you should keep your distance from others if you are sick.
Don't try to be a hero by trying to power through work, school, or errands. Your co-workers and classmates would much rather you stay home so that you don't make them sick as well.
Use appropriate etiquette when coughing or sneezing. This means coughing or sneezing into a tissue or your bent elbow. You should avoid coughing or sneezing directly into your hands since you will end up transferring the virus to the surfaces you touch.
Clean your hands frequently using soap and water or an alcohol-based sanitizer. This is especially important when you are in public places where surfaces are touched by large numbers of people.
If you start to feel ill, you should see a doctor right away. Depending on the circumstances, the doctor may prescribe antiviral medications that can help to shorten the duration and severity of your flu symptoms. If you are exposed to the flu and are at high risk for complications, the doctor may recommend a prophylactic course of antiviral medication to try to prevent you from becoming ill.
How to Prevent Getting the Flu at School or Work
Preventing the flu at work or school requires a team effort.
Make sure that your child's school and your employer have a plan in place to address potential flu outbreaks, such as encouraging individuals who are sick to stay home. Schools should avoid the use of perfect-attendance awards so that students will not feel pressured to attend when they are ill. Employers should also encourage cross training among employees so that it is easier to cover for individuals who are ill.
Make sure that frequently touched objects and surfaces at work and school are cleaned regularly using disinfecting wipes or other products designed to kill the flu virus.
Make sure that your workplace or child's school has an adequate supply of hand sanitizer, tissues, and disinfecting wipes on site to make it easier to keep hands and work stations clean.
Make sure that your child's school has a plan in place to separate sick students until they can be picked up and taken home.
Stay Healthy This Flu Season with FastMed
FastMed Urgent Care is your one-stop resource for all things flu-related. We offer low-cost vaccines, as well as treatment for various flu-related symptoms. We have more than 100 clinics located throughout Arizona, Texas, and North Carolina ready to serve you. Our clinics offer extended hours and convenient online check-in and registration to get you in and out as quickly as possible. We even accept walk-in patients. We hope you and your family will avoid the flu this season, but we are ready to help if you should become sick. Call today to find out more about our locations, hours, and flu-related services.
About FastMed
FastMed Urgent Care owns and operates nearly 200 centers in North Carolina, Arizona and Texas that provide a broad range of acute/episodic and preventive healthcare services 365 days a year. FastMed also provides workers' compensation and other occupational health services at all its centers, and family and sports medicine services at select locations. FastMed has successfully treated more than six million patients and is the only independent urgent care operator in North Carolina, Arizona and Texas to be awarded The Joint Commission's Gold Seal of Approval® for quality, safety and infection control in ambulatory healthcare. For more information about locations, services, hours of operation, insurance and prices, visit www.fastmed.com.