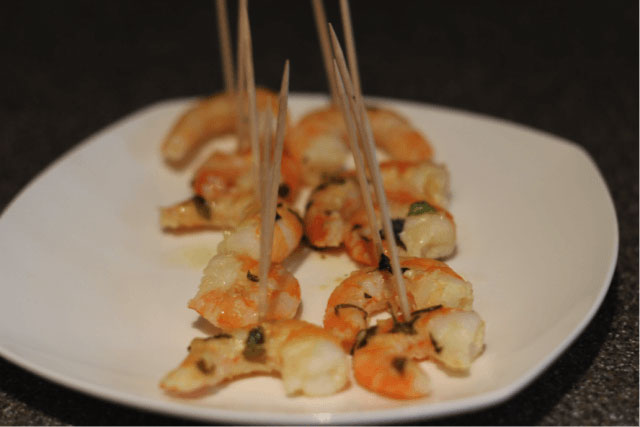 Okay, okay – technically, we made this recipe with shrimp and not prawns, but who can resist a little alliteration? This savory appetizer is a takeoff on shrimp scampi, with the superb addition of fresh basil for additional flavor. Instead of the typical scampi sauce (lemon, garlic, and butter), this recipe sacrifices fat but not flavor by using coconut oil, along with fresh-squeezed lemon juice, and minced garlic cloves. Shrimp is high in protein, and with this healthy variant of scampi sauce, you won't think twice about popping two (or three or four or five) in your mouth at a time!
What You Need
½ cup coconut oil
2 Tbsp lemon juice
1 Tbsp and 2 tsp Dijon mustard
3 cloves garlic, minced
¼ cup fresh basil, chopped
1 Tbsp fresh parsley, chopped
2 lbs large shrimp (I used precooked and deveined, but you can use raw- just adjust cook time accordingly)
What to Do
1. Preheat the oven to 425°. Combine all ingredients except shrimp in a small saucepan and heat, stirring, until the coconut oil liquefies. (It was hot enough outside that my coconut oil was already liquid, so I skipped this step and just mixed in a bowl).
2. Place a layer of shrimp on a cookie sheet or in a casserole dish. Be careful not to overlap.
3. Pour the sauce over the shrimp and warm in the preheated oven for five minutes. If you're using raw shrimp, cook them for ten or twelve minutes, or until they turn pink.
About FastMed
FastMed Urgent Care owns and operates nearly 200 centers in North Carolina, Arizona and Texas that provide a broad range of acute/episodic and preventive healthcare services 365 days a year. FastMed also provides workers' compensation and other occupational health services at all its centers, and family and sports medicine services at select locations. FastMed has successfully treated more than six million patients and is the only independent urgent care operator in North Carolina, Arizona and Texas to be awarded The Joint Commission's Gold Seal of Approval® for quality, safety and infection control in ambulatory healthcare. For more information about locations, services, hours of operation, insurance and prices, visit www.fastmed.com.