Tuberculosis: What is TB?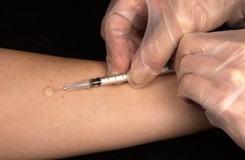 Tuberculosis is a serious respiratory disease caused by Mycobacterium tuberculosis bacteria. When tuberculosis bacteria become active, they attack the body and destroy tissue. Tuberculosis can affect any part of the body, not just the lungs, including the spine, kidneys or brain. If not treated, tuberculosis can be fatal.
Tuberculosis is spread when a person with tuberculosis speaks, coughs, or sneezes. Anyone within range can breathe in the bacteria and develop tuberculosis. But not everyone who inhales the tuberculosis bacteria will get sick. Latent tuberculosis is diagnosed when tuberculosis bacteria are successfully contained by the body's immune system but still remain in the body. Though not contagious, should that individual's immune system become weakened, tuberculosis may become active. Though cases of tuberculosis in the US have declined, it is still a life-threatening illness affecting thousands of people.
Tuberculosis Testing & Treatment at FastMed
The testing for tuberculosis is a multi-step process. The first is a skin test to determine if the tuberculosis bacteria is present in the system. If you have a tuberculosis skin test, you will need to come back to FastMed within 48 to 72 hours for our medical team to look at the reaction on your arm. But even if your skin test returns positive for tuberculosis, it could be latent tuberculosis and not active. Because tuberculosis can be life-threatening, it's important that additional testing is conducted.
The FastMed clinic medical team will discuss the history of your exposure to tuberculosis and whether your immune system has been weakened. A physical exam and a chest X-ray are the usual responses to a positive skin test for tuberculosis. If there is additional testing required that is outside the scope of our in-house labs, FastMed will manage the referral, schedule your appointment, and digitally transfer your medical records as needed.
Symptoms of Tuberculosis
According to the Centers for Disease Control and Prevention, the symptoms of tuberculosis are as follows:
Unexplained weight loss and l

oss of appetite

Night sweats
Fever
Fatigue

Coughing for

³

3 weeks

Hemoptysis (coughing up blood)

Chest pain
Other articles:
Itchy Skin | Clinic: Walk-in Medical Care | Sinus Infection | Poison Ivy | Poison Oak
About FastMed
FastMed Urgent Care owns and operates nearly 200 centers in North Carolina, Arizona and Texas that provide a broad range of acute/episodic and preventive healthcare services 365 days a year. FastMed also provides workers' compensation and other occupational health services at all its centers, and family and sports medicine services at select locations. FastMed has successfully treated more than six million patients and is the only independent urgent care operator in North Carolina, Arizona and Texas to be awarded The Joint Commission's Gold Seal of Approval® for quality, safety and infection control in ambulatory healthcare. For more information about locations, services, hours of operation, insurance and prices, visit www.fastmed.com.