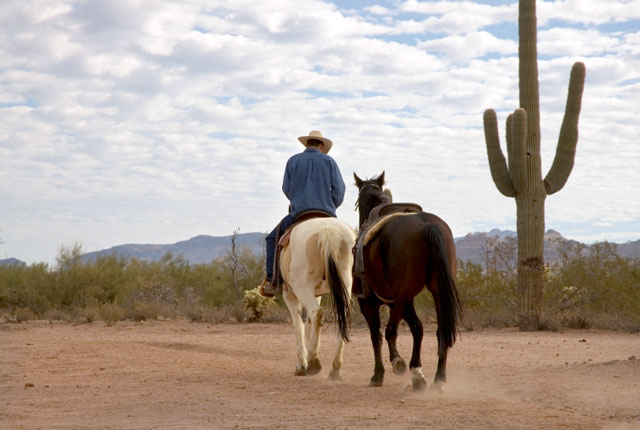 What do Wyatt Earp and measles have in common? They were both 19th century health hazards. And it may come as a surprise to learn that one of them is still around. (Hint: it's not Wyatt Earp.)
About an hour southeast of Tucson, high on a mesa, is the town that made Earp famous: Tombstone, Arizona, site of the legendary O.K. Corral gunfight that has become synonymous with the American West. A feud involving Earp — a temporary U.S. Marshal with questionable credentials — his associates, and the cattle-rustling Cowboy gang erupted in the streets and entered American legend. The conflict continued in later months, and eventually Wyatt took the law into his own hands, hunting the gang all across Arizona.
You probably don't spend your days stealing cattle or embroiled in dangerous vendettas, so you can check "gunshot wound from illegal federal marshal posse" off your list of health concerns. But one historical health issue should still be on your modern radar. Contagious diseases didn't disappear when the West was won, and measles, which was largely eradicated in the latter half of the 20th century, has made a resurgence.
Measles in Arizona
Measles has been a recent concern in Arizona due to a 2014 outbreak traced to Disneyland in California. The virus is highly contagious; it is spread primarily through person-to-person contact or contact with infected surfaces, and also through inhalation.
Measles can stay on contaminated surfaces for up to two hours. If you pass by a spot where an infected person has recently sneezed, you could get the virus. If you touch something an infected person has touched and then put your hands in your mouth or nose, you could also become sick.
Vaccines and other precautions
Very young children with weaker immune systems are most susceptible to measles, and in the 1800s, almost every child had measles before the age of 15. Luckily, we have modern options that weren't available to Wyatt Earp or anyone else in the 19th century. You can protect your children with the MMR vaccine, commonly administered at around 12-15 months and again at 4-6 years.
If you encounter measles, take the same precautions you use to avoid the flu or other contagions:
Wash your hands often.
Wipe down commonly used surfaces like countertops or doorknobs.
Encourage sick people to stay home from work or school.
FastMed Can Help
You never have to worry about Wyatt Earp — and you shouldn't have to worry about measles, either. FastMed can talk to you about how to prevent viruses, and discuss options for vaccination and understanding the symptoms of measles and what to do. Don't wait; call now to learn more about measles and find out what you can do to prevent your family from getting sick.
About FastMed
FastMed Urgent Care owns and operates nearly 200 centers in North Carolina, Arizona and Texas that provide a broad range of acute/episodic and preventive healthcare services 365 days a year. FastMed also provides workers' compensation and other occupational health services at all its centers, and family and sports medicine services at select locations. FastMed has successfully treated more than six million patients and is the only independent urgent care operator in North Carolina, Arizona and Texas to be awarded The Joint Commission's Gold Seal of Approval® for quality, safety and infection control in ambulatory healthcare. For more information about locations, services, hours of operation, insurance and prices, visit www.fastmed.com.