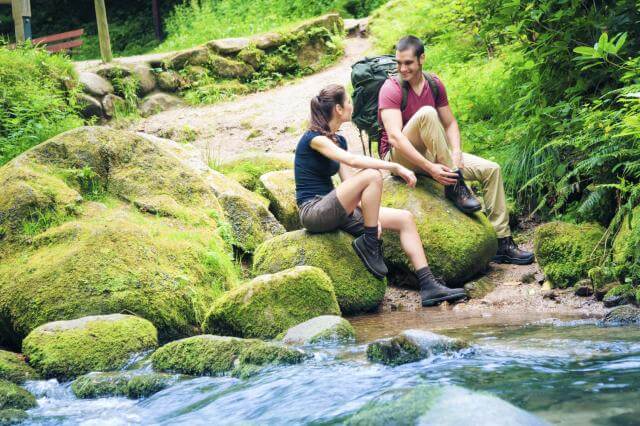 Residents of Fayetteville, North Carolina and the surrounding areas are lucky to have their own mountain paradise right next door. New River State Park isn't just a picturesque place to pitch your tent; the friendly park rangers, tranquil river, and plethora of hiking trails make a weekend at this state park fun and fitness-friendly. If you've got a three-day weekend coming up, here's how FastMed recommends you spend your time to take full advantage of what New River State Park has to offer.
Day One
Pack the car and head on over to the park, located at 358 New River State Park Road in Laurel Springs. There are plenty of places to stay, whether you've got a camper or a tent, but it's a good idea to book a reservation ahead of time for certain in-demand locations. We recommend a campsite at the US 221 Access – it's got hot showers! After you've arrived, unloaded the car, and set up your new home away from home, it's time to let the fun begin!
First up: a quick hike to get the lay of the land. (Read our primer on first aid for hiking injuries before you leave.) If you're near the US Highway 221 Access, start at the Campground Spur Trail. From there, you can take the one-mile Hickory Trail through the forest, or go down the longer, scenic River Run trail which (as the name implies) follows along the riverbank. If you're not near the US 221 Access, don't worry. There are plenty of other hikes, and you'll find them all on this map!
If you arrived at the park in the afternoon, you'll probably be ready for dinner after your hike. Many campsites include grills and picnic tables, but if yours doesn't, hot dogs are still delicious when you cook them over a fire. Coat potatoes in butter and wrap them in tin foil, then toss them in the embers for a while and you'll have a tasty baked potato side dish. As the evening winds down, break out the s'mores and ghost stories, and then hunker down for your first evening under the stars!
Day Two
Start your day with a quick jaunt down the Dogwood Trail, and pause at the wooden platform overlooking the New River. There's no better way to start your morning than with some yoga or meditation, so practice a few poses as you enjoy the view. If you're not much of a yogi, simply take the opportunity to relax, breathe deeply, and perhaps chat with your loved ones before you start the day. It's going to be a busy one!
Back at the campsite, cook a quick breakfast (eggs are easy) and grab your rod and reel – it's time to catch your dinner! The New River is racing with smallmouth and redeye bass, and the fast-moving tributaries are regularly stocked with rainbow and brown trout. You do have to get a license to fish, but it's less than $10 for North Carolina residents. New to fishing? Try an excursion with a guide from Tangent Outfitters. Make sure you dress appropriately and wear sunscreen for your morning on the water!
In the afternoon, you're off to Wagoner Road Access, where you'll cruise a smooth two miles on the Fern Nature Trail and Running Cedar Trail. These trails offers a great combination of riverside strolling as well as mountainous, forested sections. Bring along your favorite book, or grab a field identification guide and some binoculars and see if you can spot some of the local avian residents. When you're done, head out to town for a bite to eat at a restaurant (or enjoy some of that trout you caught earlier), then catch some z's before your last day.
Day Three
Fishing, hiking, and birdwatching are all fun, but some of the best spots in New River State Park are only reachable by water. Slather on some sunscreen and choose your adventure: will you go canoeing or kayaking on placid, shallow waters? Will you rent a stand-up paddle board for a great upper body workout?  Or will you sit back, relax, and float down the river in an inner tube? There are plenty of outfitters offering both guided tours and rentals in the New River area.
Wherever you go, be sure to pack a picnic. There are lots of scenic spots where you can enjoy your lunch, including the canoe-in picnic tables at the Alleghany County Access Area. As you finish your lunch and head back to the campsite to pack up, don't forget to take all your trash with you. Wildlife can become entangled in or try to eat litter, so bag everything up and get rid of it safely!
While your camping weekend will likely be a blast, sometimes unexpected injuries happen when you're roughing it in the wild. If anyone in your party becomes ill or injured, come to one of FastMed Urgent Care's Fayetteville locations; there's one on Ramsey Street and one on Town Center Drive. Whether you're suffering from dehydration, sunburn, or a sprained ankle, we're here to help.