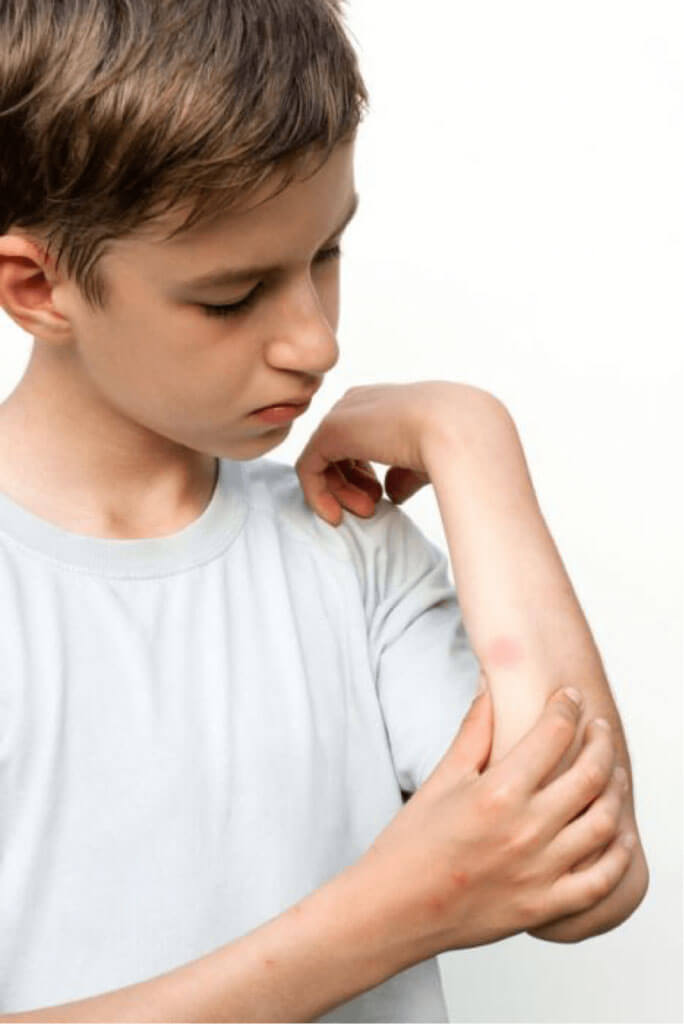 It's summer, and for many of us that means some itchy red spots to go along with our fun in the sun. Annoying insects abound in the summertime; outdoor adventures are plagued by mosquitoes, picnics invite ants, and most summer destinations are home to some type of biting fly.
How do you know which type of bite you're dealing with? FastMed Urgent Care offers a brief guide.
Types of Bug Bites
Mosquito bites
Medium-sized red raised bites or welts that itch. You'll usually find them on exposed skin like arms and legs. Mosquitos carry viruses, so come to FastMed if you're feeling feverish or ill.
Tick bites
Small red bites, often with a red dot in the center. They may or may not itch. Watch a tick bite carefully; if you see any associated rash, call a doctor, because it may be a sign of a tick-borne illness.
Flea bites
Tiny red bites that occur in clusters or lines, so that they often resemble a rash. Fleas love crevices and crannies like the waistband of your pants or the inside of your socks.
Ant bites
Small red bites that burn, sometimes blistered in the center. Some ants are venomous and some aren't, but almost all ant bites sting significantly. Fire ant stings are particularly irritating; they produce a small, white, painful pustule that can take a week to heal.
Fly bites
Red, often painful wealts, sometimes filled with fluid. Fly bites can hurt quite a lot, because a fly will cut the skin rather than simply piercing it.
Spider bites
Raised, pronounced red bites, sometimes painful or blistered in the center. Most spider bites are not dangerous, but if you develop an allergic reaction after you've noticed a spider bite, seek medical help immediately. (See below.)
Caring for Bug Bites
The care regimen is the same for all types of bites. For mild reactions, wash the affected area, apply a cool compress if you experience pain, and use lidocaine or hydrocortisone creams (or good ol' calamine lotion!) to soothe itchiness. You can always use over-the-counter antihistamines if the itchiness just won't quit.
Emergency Care for Allergic Reactions
However, some people have allergic reactions to bug bites that can be severe. Seek emergency care immediately if you experience:
Difficulty breathing
Swelling of the lips, eyelids, or throat
Dizziness, faintness, or confusion
Rapid heartbeat
Hives
Nausea or cramps
A scorpion sting on a child
While you're waiting for medical help in this situation, take certain preventive measures:
If a person knows he or she is allergic and carries an EpiPen, use it immediately.
Loosen tight clothing and cover the person with a blanket.
Don't administer any liquids.
If a person is nauseated, turn him or her on the side to prevent choking.
Use CPR if the person shows no signs of circulation, like breathing, moving, or coughing.
FastMed Urgent Care treats bites from creepy-crawlies of all shapes and sizes. If you experience severe itchiness or a reaction that lasts more than a day, come on in to the location nearest you for fast, professional relief!
About FastMed
FastMed Urgent Care owns and operates nearly 200 centers in North Carolina, Arizona and Texas that provide a broad range of acute/episodic and preventive healthcare services 365 days a year. FastMed also provides workers' compensation and other occupational health services at all its centers, and family and sports medicine services at select locations. FastMed has successfully treated more than six million patients and is the only independent urgent care operator in North Carolina, Arizona and Texas to be awarded The Joint Commission's Gold Seal of Approval® for quality, safety and infection control in ambulatory healthcare. For more information about locations, services, hours of operation, insurance and prices, visit www.fastmed.com.