Diabetes affects nearly 30 million people in the United States, and the CDC estimates that almost 28% of people with diabetes are undiagnosed, meaning they are not getting the care they need. If you are experiencing the symptoms listed below, you could have diabetes — a serious metabolic disease that can be fatal without proper care.
Type 1 Diabetes Symptoms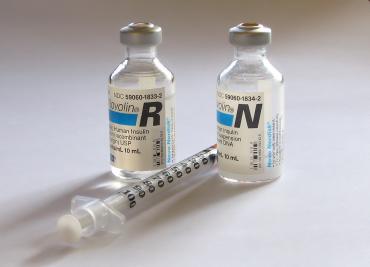 There are two types of diabetes: type 1 and type 2.
Type 1 diabetes usually affects children and adolescents and is much more rare than type 2 diabetes. According to American Diabetes Association, "In type 1 diabetes, the body does not produce insulin … Insulin is a hormone that the body needs to get glucose from the bloodstream into the cells of the body."
Symptoms of type 1 diabetes include:
Frequent urination
Extreme hunger
Increased thirst
Blurred vision
Unintended weight loss
Bedwetting (in children who haven't had problems with bedwetting before)
Type 2 Diabetes Symptoms
Unlike people with type 1 diabetes, individuals with type 2 diabetes can make insulin, but their bodies do not use the insulin properly. This is known as insulin resistance.
With type 2 diabetes, the pancreas produces more insulin in an attempt to get more glucose to the body's cells. But over time, the pancreas is unable to keep up and the sugar builds up in the blood, causing blood sugar levels to be abnormally high.
Symptoms of type 2 diabetes include:
Fatigue
Blurry vision
Sores or cuts that will not heal
Excessive hunger
Frequent urination
Excessive thirst
Getting the Diabetes Care You Need
If you think you are showing diabetes symptoms, it's important to see a medical professional right away to get a proper diagnosis. Depending on the type of diabetes you have, your age, and other factors, your provider will create a diabetes treatment plan that is right for you.
FastMed Urgent Care can test you for diabetes and help you manage your diabetes once you are diagnosed. Many of our clinics even have onsite labs to ensure you get your test results as quickly as possible. Even better, we stay open late, are open on weekends and holidays, and never require an appointment. Find your local FastMed today and finally get the care you need!
———-
Sources:
CDC: http://www.cdc.gov/diabetes/data/statistics/2014statisticsreport.html
ADA: http://www.diabetes.org/diabetes-basics/type-1
Mayo Clinic: http://www.mayoclinic.org/diseases-conditions/type-1-diabetes/basics/symptoms
About FastMed
FastMed Urgent Care owns and operates more than 100 locations across Arizona, North Carolina and Texas, providing a broad range of acute/episodic and preventive healthcare services 365 days per year. FastMed also provides workers' compensation services at all of its clinics, and family and sports medicine services at select locations. FastMed has successfully treated more than 5.8 million patients since the opening of its first clinic in 2005, and is the largest urgent care operator to be awarded the Joint Commission Gold Seal of Approval® for accreditation in healthcare quality and safety in ambulatory healthcare. For more information about locations, services, hours of operation, insurance and prices, visit www.FastMed.com.