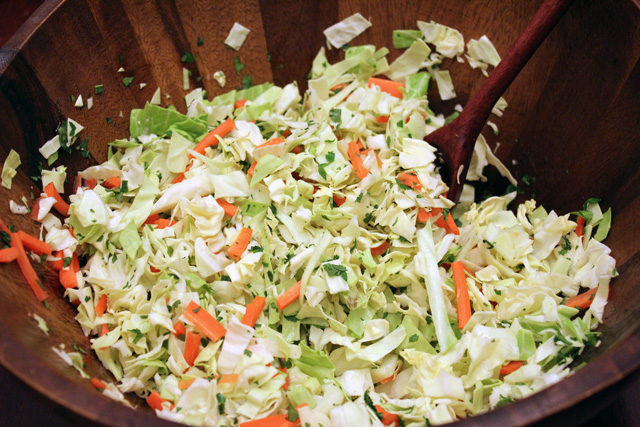 Coleslaw is great to have on hand in the kitchen. It works as a nice, fresh side dish (especially if members of your household object to salad!), and it's also delicious tucked inside your favorite Mexican foods, like tacos and fajitas. This tasty coleslaw is deceptively simple; there are only a few ingredients, but it still has a complex, unique flavor.
Tip: If you're having a really busy night, save some time by buying matchstick carrots and chopped cabbage. Pour on the dressing right before you serve it for the freshest taste!
What You Need
1 head of cabbage (or 1 lb chopped cabbage)
2 carrots (or a bag of matchstick carrots)
¼ cup lime juice
¼ cup rice vinegar
1 tsp olive oil
Salt to taste
⅓ cup chopped fresh cilantro
What to Do
Cut your cabbage into thin strips, no longer than 2 inches. Chop your carrot into similarly sized slices and mix in a bowl.
In a small bowl, combine lime juice, olive oil, salt, and vinegar.
Add the dressing and cilantro to the coleslaw mix just before serving, and toss until coated. Enjoy!