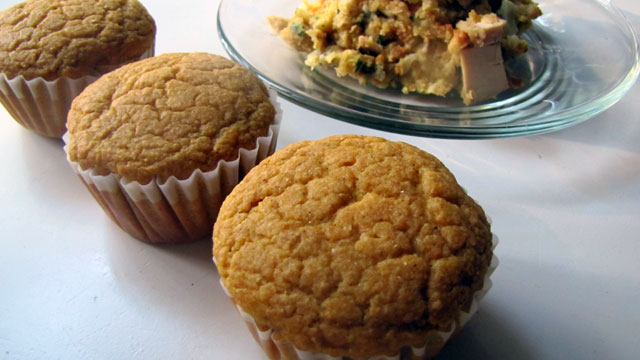 The leaves are turning and the smell of pumpkin pie spice is in the air. It's turning up in everything this time of year from your morning latte to this scrumptious pumpkin cornbread recipe. Enjoy these tasty morsels straight out of the oven with your morning coffee or tea for a real treat!
What You Need
1 1/4 cups yellow cornmeal
1 cup whole wheat pastry flour
2 teaspoons baking powder
1 1/2 teaspoon pumpkin pie spice
1/2 teaspoon salt
3/4 cup canned pumpkin
1 egg, slightly beaten
1 cup unsweetened almond milk
1/3 cup honey
2 tablespoons coconut oil, melted
What to Do
Preheat oven to 400 degrees.
Line a muffin pan with paper liners and spray lightly with coconut or other cooking oil.
In a medium bowl, stir together your dry ingredients including the cornmeal, flour, baking powder, salt, and pumpkin pie spice.
In a separate large bowl, stir together the rest of your ingredients including the pumpkin, egg, almond milk, honey, and coconut oil.
Add the dry ingredients to the wet ingredients and stir until combined.
Pour batter into muffin cups or tin and bake for about 18 minutes or until a toothpick comes out clean.