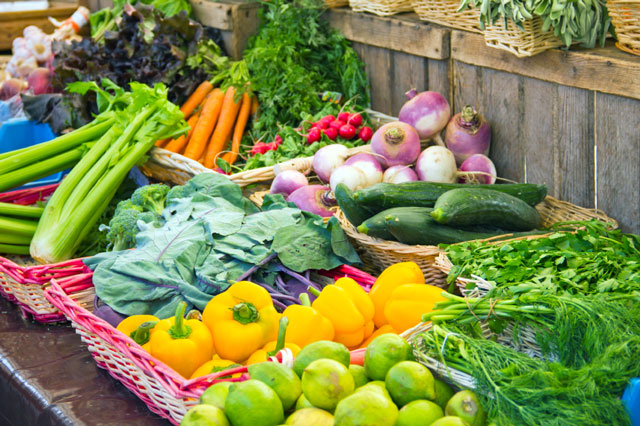 We all know that fruits and vegetables are an important part of a healthy diet. The Pinal Food Market is great and there's plenty of variety at the grocery stores in Coolidge, but the freshest produce comes straight from your own backyard. You might think that it'd be hard to grow food in our hot desert climate, but it's actually quite nice for growing some of the healthiest fruits and vegetables if you prepare your soil appropriately. If you have any questions, the folks at Florence Farms Nursery are always helpful. Here's what (and when) you should be planting!
Tomatoes
When choosing your tomato varieties, go for the smaller sizes – cherry tomatoes. Super Sweet 100 Hybrid, and Sungold do particularly well in our climate, as do grape tomatoes. Skip the beefsteaks and other large tomatoes, since the dry, arid environment makes them prone to cracking. February is a bit early to plant your tomatoes, because even a little frost will kill them, but you can start seedlings indoors, and plant them when we're no longer at risk for colder weather.
Peppers
While you're getting your tomato seeds ready, start a few pepper seeds as well! Peppers are great because they come in all shapes, sizes, and flavors. Try sweet bell peppers for an easy raw snack. Consider cultivating chili, cayenne, or jalapeño peppers for a spicy addition to your favorite meals. Peppers are sun lovers, so when you're getting ready to plant outdoors, choose a well-drained spot where they can thrive. You'll want to 'harden' your sprouts by gradually exposing them to the conditions outdoors. As temperatures warm up, set them outside in the garage or in the shade for a few hours each day, so they'll be less stressed when you transplant.
Citrus Fruits
Citrus fruits, like lemons, limes, oranges, and grapefruits thrive in the hot Florence climate. Orange and grapefruit trees can provide great shade, growing to be over 20 feet tall, but you may want to look into the dwarf varieties if you have a smaller yard. Don't be disappointed when you're not making fresh lemonade by this time next year, though; most citrus trees take three to six years to produce fruit.
Beans
Pole beans and green beans are a wonderful addition to your garden as they, like the rest of the plants on this list, thrive in full sun and loamy soil. Green beans, also called bush beans, require very little maintenance and are delicious eaten right off the plant. You can plant the seeds in soil in early March, just as you're starting your tomato and pepper seedlings indoors. They do especially well in our arid climate; try the Bush Kentucky Wonder, Contender, or Tendercrop varieties. Seal your fresh-picked veggies in a plastic bag and keep them in the fridge for an easy snack.
Melons
Melons are vine fruits and need a lot of space, so they're perfect if you have a big yard. Watermelons and cantaloupes grow especially well here in Florence. You can begin planting in mid-March, since most melons need at least three or four months of warm weather. Watermelons and cantaloupes (also called muskmelons) need dry conditions, so plant them in an area with good air circulation so they can dry out quickly after a rain shower. You can also start melons indoors, harden them, and transplant outside.
A fruit and vegetable garden is a great hobby, and it's also a very rewarding one. You'll be surprised at how exciting it is when your plants first begin to blossom, and it's an outdoor activity the whole family can enjoy. If we didn't list your favorite fruit or veggie here, don't worry! Florence, Arizona is located in Zone 9 on the USDA Hardiness Zone chart, and there are dozens of plants that do well in our climate. Happy harvesting!