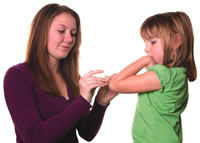 Treating Cuts or Lacerations at Home
Apply direct pressure with gauze and elevate to stop the bleeding.

Cleaning with a gentle soap and water will help reduce the chance of bacterial infection.

Antibiotic ointment (such as bacitracin) and a sterile gauze bandage will help to protect the wound from further infection and water loss until a scab forms.

If the wound is dirty go to your local FastMed for cleansing and possible suture repair.
Medical Treatment for Cuts and Lacerations
Just as at home, the first step is to stop the bleeding from a cut or laceration.

Medication to numb the area may be given.

Cleaning is often the most important aspect of good wound care.

Your medical provider will decide the best way to repair your wound.

Some minor cuts can be closed with special adhesive tapes (Steri-Strips) or tissue glue (Dermabond).

Deeper cuts may need stitches to repair deep structures.

Stitches to the skin surface can help to stop bleeding, protect underlying tissues, and lessen scarring.

If the wound is contaminated tetanus immunization will be given if it has been more than 5 years since your last immunization. Normally, the tetanus immunization is given every 10 years.
About FastMed
FastMed Urgent Care owns and operates nearly 200 centers in North Carolina, Arizona and Texas that provide a broad range of acute/episodic and preventive healthcare services 365 days a year. FastMed also provides workers' compensation and other occupational health services at all its centers, and family and sports medicine services at select locations. FastMed has successfully treated more than six million patients and is the only independent urgent care operator in North Carolina, Arizona and Texas to be awarded The Joint Commission's Gold Seal of Approval® for quality, safety and infection control in ambulatory healthcare. For more information about locations, services, hours of operation, insurance and prices, visit www.fastmed.com.