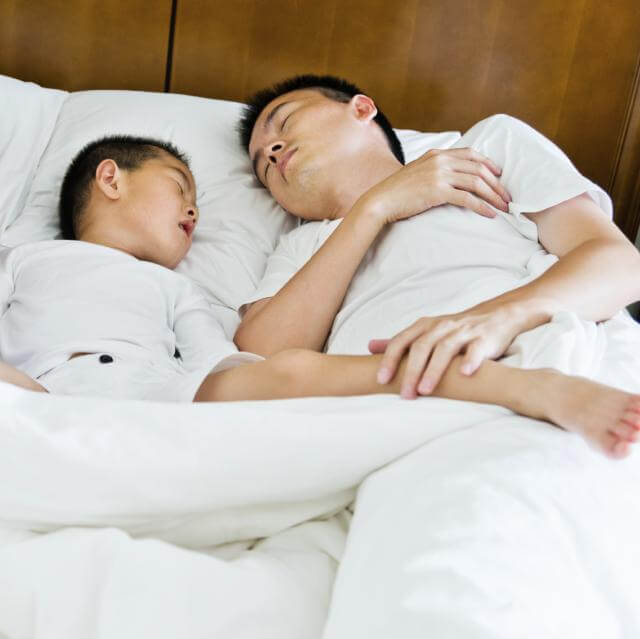 Well, maybe not forever. You have to eat. And occasionally you need to see your family — just to make sure everyone is okay. But you know what we're talking about: there's rain against the window and the comforter is pulled up, the room is cool, and were it not for the alarm barking on the bedside table, you'd never wake up.
As comfortable as sleep is, it's equally important for your health. Sleep is your body's chance to recover and reset all the functions that help you keep up with your busy schedule all day long. It's not something you can go without for long.
At FastMed we're dedicated to healthy, active bodies, and sleep is a major part of this equation. Let's talk about how much rest your body needs and what happens when you go to sleep each night.
How much sleep do you really need?
Rarely is it possible to make broad recommendations about people's health. Sleep is no exception. It is a very personal thing, and how much sleep you need may vary with activity level, diet, and any number of other factors. Generally, through the studies it conducts, the National Sleep Foundation makes some recommendations based on age.
Age

65 +

26-64

18-25

14-17

6-13

3-5

1-2

4-11 months

0-3 months

Hours of sleep

7-8

7-9

7-9

8-10

9-11

10-13

11-14

12-15

14-17
These studies prove that we need to get ample sleep each night, and be especially mindful that younger people in our households get enough rest. As bodies develop, they need more sleep, time to grow and heal. So when your young teens sleep till noon each day, they're not being lazy — they're just being normal kids.
If you are having trouble getting the recommended amount of sleep each night, the Mayo Clinic has some advice.
Create a routine: Get to bed at the same time each night and follow a set process to go to bed. Wind your body down and relax.
Think about your diet: Are you eating something before bed that will keep you up? Spicy foods and caffeine can interrupt sleep. Pay attention to what you put in your body hours before bedtime.
Get comfy: This seems like a no-brainer, but you may need to invest in better sheets, pillows, or a mattress to get the sleep you need.
Exercise: Wear your body out during the day so your body needs sleep to recover. Staying active during the day is a great way to improve your sleep at night.
Natural sleep aids
If the strategies above do not work to help you get to sleep, you may need a natural sleep aid. Melatonin, a naturally occurring hormone in your body, has gotten attention lately and may help you feel sleepy at night. Long-term tests have not been completed, so as with any supplement you want to keep an eye on how you feel before and after taking it. Chamomile tea is another potential sleep aid. However, with any of these products, you want to talk to a healthcare professional before you begin a treatment regimen.
Today, there are more products on the market than ever, and you always need to be careful with what you put in your body. If you have a FastMed appointment, you can always ask for a recommendation.
What happens when you sleep?
When you are asleep, the vital parts of your body are growing, recharging, and healing. This includes the functions you rely on to live and live well. The right amount of sleep can:
Sleep is one of the best gifts you can give your body. If you find yourself feeling sluggish or depressed, try to get some more sleep. When symptoms get worse or linger for an extended period of time, that's when you need to speak with a healthcare professional.
FastMed is here to answer your medical questions
Visit your local FastMed whenever you have a health issue to discuss. If you think a medical problem is preventing you from getting comfortable at night, we may be able to resolve that issue. Or, if we feel your sleep issue is related to a larger problem, we can point you in the right direction and recommend a visit with a specialist.
FastMed is here to help you get back out there quickly and at a fraction of the cost of most emergency rooms. Having an ally like FastMed one call away may make you rest a little easier.
About FastMed
FastMed Urgent Care owns and operates nearly 200 centers in North Carolina, Arizona and Texas that provide a broad range of acute/episodic and preventive healthcare services 365 days a year. FastMed also provides workers' compensation and other occupational health services at all its centers, and family and sports medicine services at select locations. FastMed has successfully treated more than six million patients and is the only independent urgent care operator in North Carolina, Arizona and Texas to be awarded The Joint Commission's Gold Seal of Approval® for quality, safety and infection control in ambulatory healthcare. For more information about locations, services, hours of operation, insurance and prices, visit www.fastmed.com.